Lawo has appointed Johan Boqvist to the post of Senior Product Manager, Radio.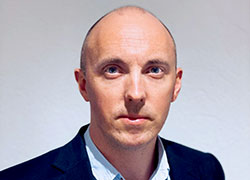 Boqvist arrives with an impressive career in broadcast technology, having spent 20 years at Swedish Radio. He is a member of the board of the Swedish Audio Engineering Society and was a founding member of the taskforce responsible for defining the AES67 AoIP standard. He has also been an on-site technical consultant for Public Service Radio projects for the Swedish International Development Cooperation Agency, SIDA, in countries such as Indonesia, Myanmar, Vietnam and Mongolia.
Joining Swedish Radio in 2000, Boqvist helped the broadcaster transition from analogue to digital workflows and production systems at national sport channel, P4. He focused on radio consoles, audio codecs, studio design, playout/editing software and remote production workflows for SR's coverage of the Olympic games – a major technical undertaking.
In 2008 he joined Swedish Radio's R&D department, where he was instrumental in the launch of a nationwide, networked AoIP contribution system with over 400 endpoints based on EBU/ACIP. From 2015 on, Boqvist and his team played a key role in the concept and technical design of the award-winning 'Next Generation' project, which reimagined on-air radio workflows with its intuitive touchscreen-based user interface, playout and codec integration, and dynamic, user-controlled AES67 stream functionality.
'I'm proud to be a part of the Lawo team, and I see this as an opportunity to contribute to the radio industry worldwide,' says Boqvist. 'For me, Lawo has always represented high-quality products and cutting-edge innovations throughout the entire product line. I am really looking forward to taking on this position, and I believe that my radio experience and knowledge of systems integration and market will be a positive contribution to future radio products and projects at Lawo.'
'I'm delighted we have secured someone of Johan's caliber to lead our Radio product line,' says Lawo Chief Technology Officer, Phillip Myers. 'I have no doubt that he will make a significant contribution to its future growth and development progress.'
Boqvist is based in Stockholm, Sweden, and will work with Lawo's technical team to develop products for Lawo's radio product line.
More: www.lawo.com