Digigram has appointed Aditya Panikker as new Business Development Manager, with responsibility for expanding the company's business in the Middle East and Africa.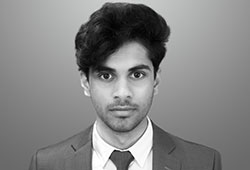 With an established foothold in North America, Europe and the Asia-Pacific region, the professional audio codec and digital soundcard manufacturer is expecting Panikker to repeat this success within the MEA, and also work towards creating a strong partner network in these regions.
'Aditya started his professional career with Digigram as a Product Manager in 2018, and has a very clear understanding of the product portfolio,' says VP of Sales, Xavier Allanic. 'This experience coupled with his educational background in international business development will be a strong asset to Digigram's grand plans. We are glad to have him on our team.'
'This is a big responsibility and I am grateful to the management for placing their trust in me,' Panikker says. 'Digigram has been developing industry-leading audio solutions for over three decades, and this rich experience extends all the way to the way we understand our customers and the relationship we establish with them. In an increasingly competitive, price-sensitive and quality conscious market, the overall customer experience will always reign and I am confident that our team is ready for this challenge.'
Panikker is based at Digigram's headquarters in Grenoble, France.
More: www.digigram.com