RCF SpA has named Thomas Lindgren as National Sales Manager for Denmark.
'This is a newly-created position,' says International Sales Manager Luca Ombrati. 'Having previously been in partnership with a local distributor, we intend to start a direct operation with Thomas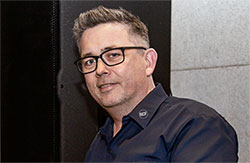 With a career stretching back more than 20 years, Lindgren was most recently audio consultant for Ascon Trading ApS, and prior to that made his mark with a series of premier pro audio brands, most notably Sennheiser. 'Having a sales guy with a technical background was an extremely attractive prospect,' says Ombrati.
From RCF's perspective, pursuing the 'direct' option was preferable to seeking a new distributor. 'Thomas already knew RCF products because of his previous experience at SC Sound a few years earlier, and so we started to talk about this new plan,' Ombrati adds.
Having finished an intensive three-day technical training programme at RCF HQ in Italy, Lindgren's appointment becomes effective from the beginning of 2020.
'Since RCF is mainly known in the MI segment in Denmark, his priority will be to rebuild the relations in that specific field,' Ombrati says. 'He will then start to approach the rental companies in order to promote our range of line arrays with a good deal of optimism, since he is familiar with this market. Last but not least he will be approaching system integrators, installation companies, contractors and consultants.'
It's great to be working in a company, with colleagues that are equally passionate about high quality sound, and are therefore making quality products,' Lindgren says. 'There is nothing more fulfilling as Sales Manager than having pride in representing your products and the company behind them.'
More: www.rcf.it