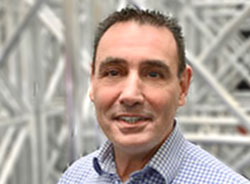 The Netherlands-based Eurotruss Group has appointed Ralph Stockley its new Chief Commercial Officer and board member.
In his latest role, Stockley will be responsible for group sales, while providing support to all individual brands. He will work alongside company CEO Martin Kuyper and COO Frank Schrage to develop and implement the group's strategic international growth plan. He joins Eurotruss with more than 20 years' experience in the entertainment industry.
'Ralph's experience, intuitive commercial approach and broad global network will be a great addition to the group,' says Eurotruss Group CEO, Martin Kuyper. 'He will be instrumental in the future global expansion planned in early 2020.'
'I am excited to work with such an established brand serving international markets in the entertainment industry and feel privileged to join the team as we embark on the Eurotruss journey together,' Stockley adds.
More: www.eurotruss.com