Pro audio amplifier electronics specialist Pascal has made two executive appointments to its management team, positioning the company for a new phase of strategic expansion. Both appointments are to newly created positions – Chief Financial Officer and Chief Operating Officer.
Gorm Eichenberger has been appointed as Chief Financial Officer, following the retirement of Henrik Gunst Smith, the company's Director of Finance since 2013. Also joining the company this month is Gustaf Høskuldsson, taking up the newly created position of Chief Operating Officer. Both roles represent an expansion of management team skills in areas of business development, and strengthening operations and customer support.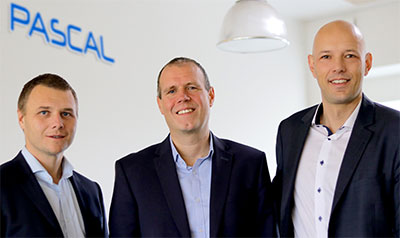 Both Eichenberger and Høskuldsson come to Pascal with extensive experience with audiology market leader Widex, where Eichenberger ultimately held the position of Head of Operation Finance and Høskuldsson Vice President, Global Supply Chain. Most recently they respectively held executive positions with Pandora, where Eichenberger was Group Finance Director, and Cobham PLC, where Høskuldsson was Senior Vice President Operations and Manufacturing.
During his tenure at Widex as Director then VP, Global Supply Chain, Høskuldsson oversaw a company-wide transformation (for which he and the company won several awards) that resulted in it becoming the most profitable company in the audiology industry.
Commenting on the challenges that face entrepreneurial companies in developing a sustainable growth strategy, Høskuldsson says: 'There is a tendency in the market which, to a high degree, is maturing, for clients to be looking to the supply chain for fewer suppliers with more capabilities across the value chain. It's a developmental process, changing the way we work together with our customers; clearly understanding what they want, where are the overlaps and where we can help them be successful.
'The questions of process and the solution depend on the individual customers. It can be generic or specific, depending on where the market is going. It is about leveraging the skills the company has now but in delivering a value proposition that is very different.'
The appointments follow a 12-month period of sustained investment by the company, during which personnel, and R&D and operations facilities at its Copenhagen HQ have expanded by more than 30 per cent.
'In continuing to manage the growth process and maintain an exceptional rate of expansion, we are seeking to become ever more outside-in customer centric,' says CEO Lars Rosenkvist Fenger, 'Customer centricity has always been a core value for Pascal; offering our clients what they actually want, rather than what they have come to expect. This new phase of our growth strategy is centred on the expansion of our existing customer specific offerings and on developing new customer interfacing capabilities for the pro audio industry.'
More: www.pascal-audio.com