Manley Laboratories has recruited Jeffrey Bork to its Engineering Department as Senior Electromechanical Design Engineer alongside Jesse Honig as Engineering Project Manager.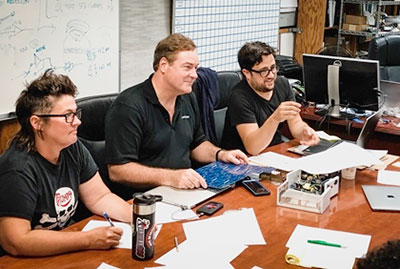 Bork joins Manley Labs after 20 years as a Design Engineer at Automated Processes Inc (API) including 14 years as APs Director of Engineering followed by two years as an Audio Hardware Design Engineer at Avalon Design. Prior to those positions, he served as Chief of Technical Maintenance at Sunset Sound Recorders for seven years.
'I've known Jeffrey since the 1990s, and have always admired his accomplishments and work ethic, and am immensely excited and proud to welcome him to the team,' says Manley President, EveAnna Manley.
Bork will work with long-time Manley Design Support Engineer Humberto Rodriguez, whom Manley refers to as 'the keeper of the tribal knowledge, with a memory of the tiniest details from all Manley gear over the course of three decades with the company'.
Jesse Honig's background includes work at Slate Digital/Slate Media Technologies, The Village and Largo, plus extensive experience in recording and technical systems design.
'His experience in manufacturing, project management, and audio engineering make Jesse an immensely valuable addition to our team,' says Manley. 'Like many of us at the company, he isn't afraid to wear many hats and see a project from all angles. We are lucky to have him onboard.'
More: https://www.manley.com