US live event production company CP Communications has appointed Ian McKelvy as Senior Account Executive for A/V and Broadcast Services.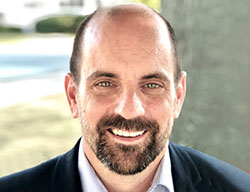 Reporting to Director of Sales James Monroe and VP of Sales Aaron Segarra, McKelvy will focus on business development around CP Communications' products and services, including equipment sales and rentals. His initial efforts will focus on broadcast and A/V business growth in the greater New York City region.
McKelvy comes to CP Communications with nearly 15 years of sales and management experience in the broadcast and live events space. He spent nearly a decade at Bexel Broadcast Services, working his way up to an Operations Manager role that oversaw key business functions and financial performance. He most recently managed technical sales for Jetwave Wireless' RF audio business, where he spearheaded product sales, packaged wireless rentals and frequency coordination for distributed antenna systems in the New York City region.
McKelvy's extensive experience with RF and wireless systems is a good fit with CP Communications' expertise in RF content acquisition and broadcast coverage for professional sports and live events. As the company increasingly leverages IP and bonded cellular technologies for these purposes, McKelvy sees an opportunity to position the company for a much broader array of business opportunities.
'The availability of RF spectrum continues to shrink across the country, which is affecting how companies like CP Communications approach live production,' McKelvy explains. 'My experience in RF frequency coordination and design will bring value to their more traditional services, as the industry learns how to more efficiently manage our shrinking RF spectrum. However, the growth of their Red House Streaming (RHS) solutions for IP, cloud and bonded cellular networking provides an innovative response to the challenges our customers face in live production, while providing a more efficient price point that will attract a much broader customer base.'
McKelvy points to his experience with large-scale frequency coordination projects, including New Year's Eve in Times Square, as particularly valuable experience as he joins CP Communications. He also has extensive experience supporting large corporate events – one of many A/V verticals that CP Communications is bullish about as their RHS solutions come to market. CP Communications' RHS Stream production packages provide options to cover single-camera shoots and multi-camera productions, and to stream acquired content in real time to multiple viewing platforms. CP Communications is also the exclusive distributor of Mobile Viewpoint products in the US.
'Ian brings a rare blend of customer and technical skillsets to CP Communications that will benefit our traditional RF, and burgeoning IP and bonded cellular businesses,' Monroe says. 'His industry relationships and business development skills will also introduce our innovative RHS solutions and services to new customers in several key growth markets.'
More: www.cpcomms.com