Expanding its Application Support Group (ASG), EAW has named Jerrold Stevens as Director.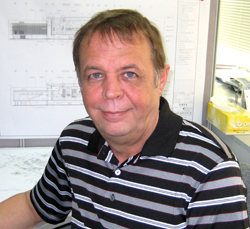 Effective as of mid-May 2011, the announcement was made by Jeff Rocha, EAW Vice President and General Manager. The position provides worldwide technical liaison between EAW's customers and their sales and product development organisations. This includes direct oversight and management of the ASG resources that are located throughout the world.
Stevens will 'lead, refine and further develop the pre- and post-sale contribution of EAW to system design, support and optimisation and will reinvigorate the role that education plays in the growth of the EAW brand'.
Stevens has been a project manager and Principal Consultant for PMK Consultants (Dallas, Texas) and PMK International (Dubai, UAE) since 2000. He has an extensive background in the planning and design, project management, installation and operation of audio systems. He has designed audio systems for a wide variety of facilities, including performing arts venues, houses of worship, convention and meeting spaces, casinos and exhibit halls across the US and Middle East.
In his new role, Stevens will emphasise EAW's ongoing educational initiatives – he has been a regular instructor for the NSCA Expo since 2001 and for the InfoComm Expo since 2006, and has taught classes at Integrated Systems Expos in Singapore and Amsterdam, and at the Palme Show in Dubai. He was appointed to the InfoComm Academy Adjunct Faculty in 2007. He is presently serving on InfoComm International's Professional Education and Training Committee. He also performs beta testing of test and measurement software.
'Jerrold Stevens' combination of domestic and international system design, optimisation and project management, coupled with his background as a respected educator, makes him the ideal fit for EAW,' says Rocha. 'Jerrold is very familiar with the types of challenges that system designers and integrators face on a daily basis all over the world. He is enthusiastically ready and prepared to help our global partners develop and deliver optimised EAW solutions that are tailored to the unique needs discovered in every application. Jerrold's presence, combined with EAW's unparalleled domestic manufacturing capabilities and the broadest range of customisation options in the industry, all serve as further evidence of our commitment to engaging our customers with the highest quality of service and the most optimised solutions.'
More: www.eaw.com