Ian Staddon has joined UK-based console manufacturer DiGiCo as Vice President of Sales.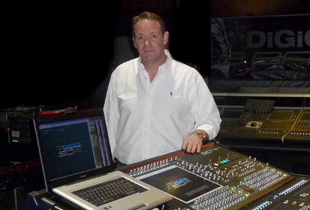 Staddon's move brings him from the Harman Group, where he initially worked for Soundcraft as VP of Sales for Studer. 'In our industry, it's good to watch what others are doing,' he says. 'DiGiCo has always been an interesting company and, with the arrival of the SD Range and Stealth Digital Processingyou really couldn't help but notice them.
'Since the introduction of the SD7, in late 2007, they have consistently launched products that meet the market's requirements. At Plasa 2010, the SD-Rack, with its phenomenal audio quality, multiple sample rates and hot swappable cards, combined with the SD7's ability to have dual processing engines, clearly indicated the direction the company was moving in.'
On accepting the position, DiGiCo proved him right by showing him what was in the pipeline. 'And it was amazing!' he smiles. 'What can I say?'
'As DiGiCo has grown over the past few years, it was logical we would need to expand our sales expertise,' says DiGiCo MD, James Gordon. 'The hard part was to find the right person with the correct amount of experience and a passionate, driven personality.
'Fortunately, we were not under any time pressures, which allowed us to investigate all the options. All through the process Ian's name kept coming up but, with a successful career at Studer, he kept being discounted.
'When we launched the SD-Rack at Plasa, the indications of our broadcast aspirations were clear and Ian's name came up again. Our approach happened to be perfectly timed: Ian has always been impressed by our direction, speed and agility and, fortunately, was keen to pursue a new challenge.'
'I have a long-term respect for what DiGiCo has achieved in such a short period of time, so when the opportunity arose to join the DiGiCo team it was a big decision, but one I knew I had to take,' Staddon says. 'This is an exciting opportunity to work with an independent company, grow the business even further in new and exciting directions and, hopefully, bring some additional ideas to the table.'
Staddon's first outing for DiGiCo will be at their distributor meeting at the beginning of April, from which he heads straight out to support the company at the NAB show in Las Vegas.
More: www.digico.org