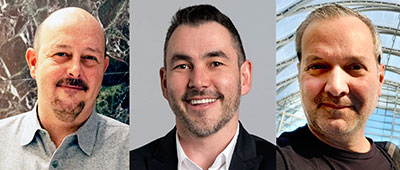 Meyer Sound has announced several staff changes, with Rob Cowles has been appointed to the newly created position of Director of Product Marketing, Daniel Rivera promoted to Business Development Specialist, and Chris Gille taking Taking Rivera's prior position as Business Development House of Worship (HOW) Specialist.
Reporting directly to Senior VP of Marketing John McMahon, Cowles will take on leadership and responsibilities in the areas of competitive marketing, vertical market strategies, digital initiatives, and customer relations management. He comes to Meyer Sound with experience in the high technology and entertainment sectors, having held prior senior marketing positions at THX, LucasArts, CNET and AOL Time Warner. He is based at Meyer Sound's Berkeley headquarters campus.
Rivera, who has been with Meyer Sound since 2016, now takes a broad strategic role in connecting Meyer Sound to new and existing customers by working closely with architects, consultants and end users across multiple vertical markets. He is based in Southern California.
Gille will focus on the vertical HOW market, and brings to his new role experience and skills in A/V system design and operation, as well as technical team management in the HOW environment. He has held key technical management positions at Willow Creek Community Church in Illinois and at Eastside Christian Church in Anaheim, among others.
'Once again I am gratified at the high level of talent we've been able to attract as we continue to grow,' says Meyer Sound Executive VP, Helen Meyer. 'People have always been at the core of our success since John and I started the company 40 years ago.'
More: www.meyersound.com