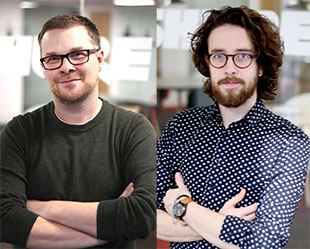 Shure UK has announced two strategic hires for its Pro Audio Group, with Stuart Moots named as Associate Director, Pro Audio and Jack Drury as Market Development Specialist.
Moots began his career at Shure in 2013 as the Southern Regional Sales Manager during a period of substantial growth. He was responsible for some of the UK's largest accounts while also playing a pivotal role in developing critical relationships and identifying new business opportunities in his region.
'Stuart has been a valuable member of the UK pro team for many years; his work ethic is superb and he is well respected by our customers,' says Shure Senior Director for Western Europe, Tuomo Tolonen. 'Shure has enjoyed tremendous growth in recent years, and alongside this, we have gone through some major re-structuring internally to provide our customers with the level of support they expect. I am confident that Stuart will lead the UK team to even greater heights and I look forward to working alongside him.'
As the company progresses beyond third-party distribution to focus on growth in the UK market, Moots will work to continue the company's leadership in wireless technology and key spectrum changes, while also looking to new markets for sustained growth. He will be based at Shure UK's Waltham Abbey office.
Following his promotion, Moots has named Jack Drury as Market Development Specialist for Pro Audio, also based at Waltham Abbey office. Drury brings with him experience including his time spent at Sennheiser and Stage Electrics.
'With the addition of Jack to the Shure UK Pro Group we have strengthened the team to cover what our customers and future Shure users expect,' Moots explains. 'Jack's experience and knowledge increases the strength of the UK team, and with innovative products and innovative people, I am looking forward to building on our current success.'
Moots is now actively seeking for a new Southern Area Sales manager to cover his previous role. Interested candidates can apply through Shure's UK website.
More: www.shure.co.uk