Active Audio has appointed Eric Grandmougin as its new Marketing & Customer Support Director, to provide the company's senior management and strategic committee with 'insight into market trends and technologies, as well as proposing new products to develop the company's offering in these areas'. He will also oversee customer requests and assist with the evolution and promotion of existing products.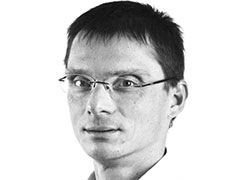 Grandmougin's customer support duties will see him assisting distributors in the pre- and post-sales phases. This assistance will include technical advice on the choice of products; commissioning and tuning for complex or strategic projects; after-sales support on technical matters; and distributor training.
'Eric has a very strong reputation in the world of pro audio and acoustics in France,' says Active Audio CEO, Régis Cazin. 'He brings a wealth of experience as an acoustic consultant, deep knowledge of markets, technologies and future trends, which will benefit both the APG and Active Audio brand, as well as our partners and end-users worldwide.
'Eric's arrival has already benefited several of our distributors to choose the best products for their projects and it won't take long for the whole market to truly see the impact his appointment will make. Moving forward, having Eric onboard will allow us to review our approach with customers, their training and market access methodology. It will also have a very positive impact on our relations with leading international acoustic consultants.
'In the long term, he will participate in the definition of the range and the technological strategy behind the products, ensuring that Active Audio continues to offer innovative solutions that are ahead of their time, while allowing us to meet the market's unmet or even unexpressed expectations.'
After completing an engineering degree in acoustics and an early career as a sound engineer taken in parallel with his studies, Grandmougin joined the design office of a major national integrator. 'After two years, my entrepreneurial spirit and the desire to give a scientific dimension to audio techniques pushed me to create my own laboratory, which allowed me to combine creativity with rigorous calculation.'
'I soon wanted a new challenge, and I found that Active Audio and its sister company APG were both very representative of my initial vision for sound,' he continues. 'They have a clear scientific dimension to their work, and this is embodied by the path of their founder. The company's desire to constantly seek different fields of application for their technologies was very appealing to me.'
Although Grandmougin will be based in Nantes, France, his duties are global: 'My first goal is to give distributors and consultants the tools to better understand the rich possibilities of Active Audio technologies and products. The customer support and marketing actions are somewhat related because, when we put tools in place, we must first help users to become familiar with them.
'In the public address sector, technological developments are rare, perhaps because users do not perceive the need evolve. Even so, Active Audio continues to make products that push the boundaries. Ray On, for example, it is the most striking case of science at the service of user-friendliness. It's simple, easy to integrate, easy to wire and yet, when you deconstruct it, you understand that all of this is made possible thanks to thorough research work. Another great example of Active Audio's R&D commitment is Vendôme, which brings both sonic and visual perfection.'
As well as being excited to begin his work with Active Audio, Grandmougin is also eager to work alongside APG: 'This strategic alliance is a wonderful example of two French SMEs that have come together to create one of the widest product offerings on the market: Active Audio caters for public address and sound reinforcement while APG offer sound systems for fixed installations and live events, be it indoors or outdoors.
'Both brands have a common vision of what a manufacturer must offer to today's market, especially in terms of product adaptation and customisation. The Active Audio/APG Group will always have a product adapted to the requested functionalities, and the requisite teams will always have a solution to help with the practical application.'
More: www.activeaudio.fr