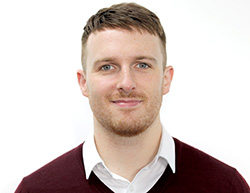 Broadcast Solutions has appointed Ashley Cochrane to the position of Sales Manager for the UK, Ireland and Central Europe.
Cochrane's sales experience spans ten years in the media and broadcast industry. He recently held the position of Senior Sales Executive at UK company ES Broadcast, where he was responsible for product and system integration sales and leading dedicated sales team which resulted in a huge growth of the company.
In his new position at Broadcast Solutions, he will promote the company's products and additions to its portfolio, and will lead the development of a sales unit for used equipment.
'Broadcast Solutions is an innovative and fast developing company with more than 15 years know-how and experience in large system integration projects and pushing innovative products in the market,' he says. 'I am very much looking forward to develop Broadcast Solutions' market presence in the UK and Ireland and to push the sales in Central European countries even further.'
'We are very happy, that Ashley is now part of the growing Broadcast Solutions group. With his experience in product sales, new and used,' adds Broadcast Solutions Director of Global Sales, Antti Laurila. 'He is a perfect fit to foster our constantly growing business.'