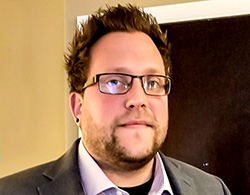 Powersoft has appointed Rick Woida to the position of Application Engineer for the US and Canada.
Based in St Paul, Minnesota, Woida will report directly to Kurt Metzler, Director of Sales North America. In his new role, he will provide end-user support for the Powersoft product line, including the K series, Ottocanali series and Quattrocanali series platforms, with a focus on rack amplifiers.
He will also assist with system design, specifying the most appropriate amplifiers for specific installations, and provide application support.
Prior to joining the Powersoft team, Woida worked as an Application Engineer at Adamson Systems Engineering for two years where he was in charge of technical support and training for the US. He also owns audio consulting design company Summation Audio, which focuses on sound reinforcement and acoustical engineering.
'My knowledge of loudspeaker system design will enable me to provide correct amplification requirements and software use for both the touring and installation markets within the North American pro-audio industry sector,' Woida says. 'Powersoft is emerging as a leader in the market, and I'm thrilled to be a part of this growing team.'
'We are very happy to add Rick as the newest member of our team,' says Powersoft Sales & Business Development Director and General Manager for North America, Luca Giorgi. 'We know his background in loudspeaker system design will help him communicate and provide best-in-class support for Powersoft end-users. We are excited to welcome him into the Powersoft family.'
Woida's declared goals in his role as Application Engineer includes making Powersoft's product line accessible and user-friendly to all professionals: 'Whether it be service, support or general product knowledge, I'm looking forward to increasing the communication channels with our end-users and getting them the support the need to meet their goals,' he says. 'From the actual system design to the technical aspects – whether it's within the software or hardware – I'm looking forward to providing Powersoft users with the best support in the business.'
More: www.powersoft-audio.com