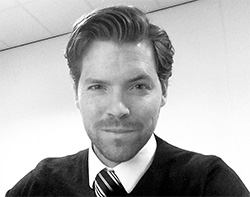 Networked media systems specialist Biamp has appointed Mark Ebing as Country Manager for Belgium, the Netherlands and Luxembourg (Benelux). The appointment is part of Biamp's continued investment in the region, and is intended to deepen its customer relations as the A/V market continues to grow.
'Biamp understands the uniqueness of the Europe market and will continue its focus on delivering the expertise needed in Benelux,' says Biamp Europe-Africa Sales Development Director, Stephen Patterson. 'Mark's knowledge of the industry and the region is invaluable. He understands and anticipates customer needs, and knows how to address them within an A/V solution.'
Ebing joins Biamp from Shure, where he served as Benelux Sales Manager for more than seven years. He was in charge of managing the system integrators throughout the region, building and maintaining relationships with consultants and clients, and for developing training content. He also held sales roles that service the music and live sound events.
More: www.biamp.com