Mark Townsend has joined audio, video and fibre-optic systems manufacturer Studio Technologies as a sales representative for the UK and Europe.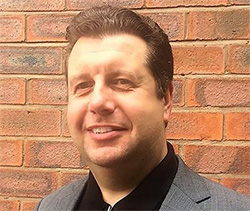 With more than 30 years' experience with prominent professional electronics companies, Townsend has strong relationships in the industry. Based in the UK, he will focus on introducing Studio Technologies' technology to key players in the European pro audio and broadcast markets.
'We're looking forward to working with Mark to introduce our technology to more global broadcasters and professional A/V integrators,' confirms Studio Technologies President. Gordon Kapes. 'Mark's extensive experience and familiarity with our industry will prove invaluable as we aim to expand Studio Technologies' footprint in the UK and European markets.'
After graduating from The University of Hull in 1985 with a degree in applied physics, Townsend began his career as a design engineer for Johnson Matthey, a global specialty chemicals and sustainable technologies company. He held several different roles during his 13-year tenure with the company, eventually being promoted to Sales Manager of the Matthey Electronics division. He subsequently managed international sales for broadcast technology manufacturer Quartz Electronics for nearly eight years, primarily expanding export sales and developing a distribution network in Europe, Africa and the Middle East. Since 2006, Townsend has provided sales and technical services to various broadcast technology manufacturers and distributors as an independent consultant.
More: https://studio-tech.com