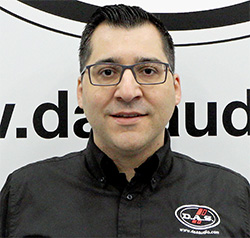 DAS Audio of America has appointed Leandro Jose Arguello to the position of Retail Sales Manager for Latin America, to be responsible for driving retail sales for the MI marketplace by developing customized strategies for each Latin American country.
The newly created position will see Arguello travel extensively throughout the Latin American territory to meet with current and potential new distributors with the goal of increasing DAS Audio's brand awareness throughout this region.
Prior to joining DAS Audio, Arguello served in several capacities, most recently as principal and owner of PA Sound & Solutions Corporation of Medley, Florida, where he served as a manufacturer's representative for audio and lighting equipment, as well as musical instruments throughout Latin America. Additional past positions include serving as Commercial Director for Someco America Corporation & Music Company International, Commercial Director for Someco Industrial Company and Import÷Export Limited., and Commercial Manager for Alianza Comercial of South America.
'DAS Audio enjoys a stellar reputation as one of the top manufacturers of loudspeaker systems and related equipment, and I look forward to helping the company increase its presence throughout Latin America,' he says.
'Leandro has a wealth of experience in the Latin American retail market and I'm confident he will do a terrific job helping us take our business to the next level throughout this vital and potentially lucrative territory,' says DAS Audio of America General Manager, Jaime Villegas. 'All of us at DAS welcome him aboard.'
More: www.dasaudio.com