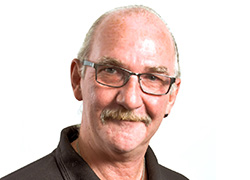 Professional Audio & Television (PAT) has strengthened its Sydney-based team with the appointment of industry veteran Joe Hammer as Business Development Manager.
In recent years Joe worked for Fairlight as APAC Sales Director, prior to assisting BlackMagic to migrate Fairlight's technology into its own business model.
'Joe is a proven sales specialist who has impressed me with his technical in-depth-knowledge of the products he has represented over the years,' says Professional Audio & Television MD, Patrick Salloch. 'We are honoured to have Joe on our team and are looking forward to growing various market verticals within our business through Joe's expertise, business acumen, and outstanding customer service mentality.'
PAT has extended its market reach in 2016, with the establishment of a New Zealand office, and 2017 was the biggest year for the company to date, with the company winning high-profile broadcast projects in both countries and building its own facility. This year PAT aims to diversify its market verticals to provide their manufacturers with a wider market reach, while continuing growth in the television and radio sectors.
'I have followed PAT over the years, and I strongly believe that the company culture, as well as the consistent push to deliver cutting edge technology, paired with outstanding pre and post service, matches what I believe companies in our industry has to deliver to stay relevant and be successful,' Hammer says.
More: www.proaudiotv.com.au