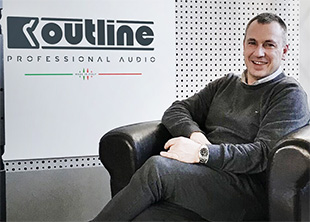 Outline has appointed Leonardo Dani to the post of Deputy General Manager of Sales.
The 46 year-old native of Tuscany joins the company during a period of strong growth and expansion, driven mainly by the success of Outline's GTO loudspeaker family in global touring and ​by the growing number of high-profile installations of the unique Stadia Series​, including those for the 2018 FIFA World Cup ​in Russia.
A musician from an early age, Dani is an accomplished drummer. His professional background includes many years of road experience in FOH, monitor and system technician roles, in addition to a decade working in international pro audio sales.
'I am confident that I can contribute to the continued success of Outline, especially as I am joining at such an exciting time,' he says. 'The systems are absolutely competitive with anything else currently available and brand new designs – such as the extraordinary Newton processor – will allow us to demonstrate clear operational advantages to our clients everywhere.
'I am inspired by the amazing technical innovation and creativity I see here. With more than 45 years of history the company and people are a perfect fit for me and I'm ready to make a major contribution.'
More: www.outline.it