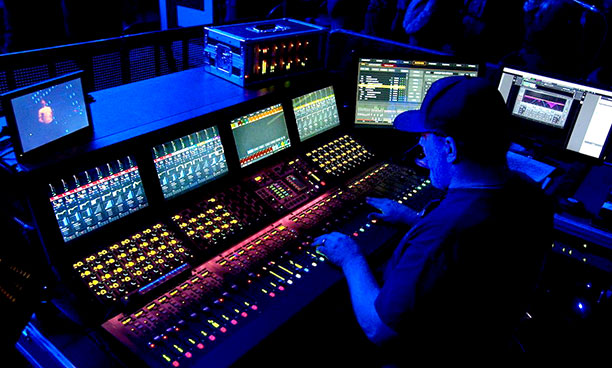 FOH engineer Sean 'Sully' Sullivan chose an Avid Venue S6L, to mix front of house for the Red Hot Chili Peppers The Getaway World Tour – the first time the band have not relied on an analogue console.
Sound provider Rat Sound assisted Sully in the move to the Avid digital live sound system. A second S6L system is used backstage by recording engineer Jason Gossman, who mixes the recordings the next day before uploading them to the band's website to be sold as MP3s.
'We can achieve much better results with digital due to the options the architecture provides – you have endless possibilities,' says Sully, who also mixes for Rihanna and Beck. 'My first hearing the full band was in front of a crowd – the house lights went off and it was time to go. It's not how I typically like it to go, but since they sent me recordings of shows, the power of S6L's Virtual Soundcheck made it easy. For me, Virtual Soundcheck is the biggest game-changing event in live sound since the beginning – it's that big of a deal.'
Sully and Gossman have both been longtime users of Avid Venue live systems, and appreciate Avid Venue S6L's new preamp design and extended headroom. 'Not to say that the Profiles were bad, but the S6Ls are obviously better,' Sully says. 'That's where I think the biggest difference is. Avid has upped the game as far as the input quality goes.'
Avid Venue S6L is a fully modular, flexible live sound mixing system that serves a range of live sound mixing applications, including FOH, monitor, broadcast and theatres. Like all Avid Venue systems, S6L provides Pro Tools integration and onboard plug-ins, with higher track counts and more processing power than ever before. With a comprehensive array of network and I/O offerings, users can easily configure the system to meet the demands of any type of show.
More: www.avid.com