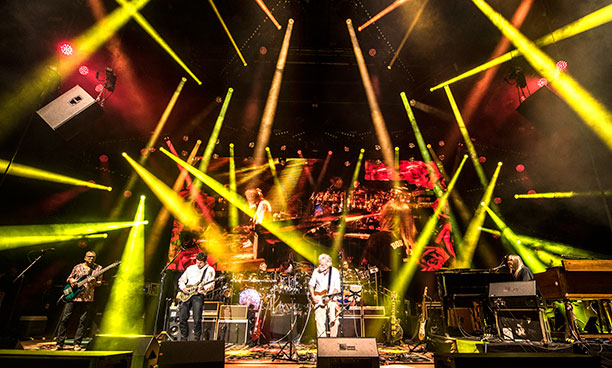 Fifty years on from San Francisco's fabled Summer of Love, Dead & Company are filling large outdoor venues with throngs of the enduring Deadhead faithful.
With the Grateful Dead name retired after the Fare Thee Well concerts of 2015, three founding band members have been joined three new recruits as Dead & Company, and are performing live again. A recent show at California's Mountain View amphitheatre attracted 20,000 fans, who were served by a Meyer Sound Leo Family large-scale linear reinforcement system.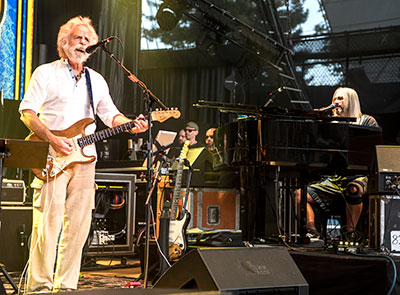 Derek Featherstone counts more than 12 years as FOH engineer for the core Grateful Dead and its various spin-off bands, including the current Dead & Company tour. He is well aware of his responsibilities in carrying on a vital musical and cultural tradition. 'It's interesting to see the age range of the fans at the shows,' he says. 'With many older Deadheads introducing their kids to the music, we see an age range from 14 to 70 in the same musical space. Our job is to take what the band is doing on stage and make it heard, experienced and ideally appreciated on a daily basis. So yes, the "long strange trip" continues.'
Featherstone also wears the hat of vice president of the tour and rental division at UltraSound, audio system provider for the current tour and a company closely associated with the Grateful Dead for more than three decades.
'Meyer Sound and UltraSound have had a strong relationship dating back to the early 1980s, centred around the Grateful Dead and originally driven by Don Pearson and Howard Danchik,' he says. 'Over the years, the two companies have been on parallel paths, developing and deploying high-end sound systems. It has been a pleasure to experience the result of this collaboration in the current Leo Family systems.'
In his role as FOH engineer, Featherstone finds the strengths of the Leo Family an ideal fit to the music of Dead & Company: 'The challenges of this band lie in the dynamic range of the music. Keeping the music strong and present when the band drops the level on stage involves a delicate balance as you can't make the quiet moments loud, but you can't have the tone fall apart at low volume. The linearity of the LEO system maintains a consistent sound at all levels. Also, the throw of the Leo arrays is impressive, and is a great bonus when we play larger stadia.'
System clarity and detail are also critical factors, as Featherstone is mixing what is essentially an all-new, one-of-a-kind show every night: 'I think the band has about 110 songs ready at this point, with more added all the time. So yes, it's challenging and I have to stay engaged at all times. But it also puts me in a more creative space by not knowing what is going to happen next. I don't think I could work with a band that played the same songs the same way every show. It might drive me crazy.'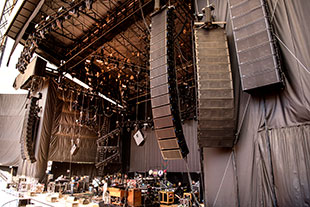 The full Meyer Sound inventory for the tour includes 36 Leo line array loudspeakers for mains, 36 Milo line array loudspeakers for out fills, and 12 Mica loudspeakers for front fill. Heavy lifting for the low end is provided by 20 1100-LFC low-frequency control elements, supplemented by 18 700-HP subwoofers.
Exact system configuration varies depending on the venue size, layout and any hanging weight restrictions. For some stadiums, three delay towers, each with 14 Lyon line array loudspeakers are deployed as well. Once rigged, the system is fine-tuned by UltraSound systems engineer Michal Kacunel and Featherstone using a Galileo loudspeaker management system (two Galileo 616 and four Galileo Callisto 616) and Compass control software.
For mixing, Featherstone relies on a Gamble EX56 analogue console, with an Avid S6L assigned to the complex and highly variable drum mixes. On-stage monitor mixers are Avid D-Show and Profile, each with 96-channel capacity and monitor duties are handled by Matt Haasch, a veteran in the UltraSound camp.
Stage foldback loudspeaker complement comprises 12 MJF-212A and two MJF-210 stage monitors, two flown JM-1P loudspeakers as flown side-fill, and two 1100-LFC elements for the drummers.
More: www.meyersound.com