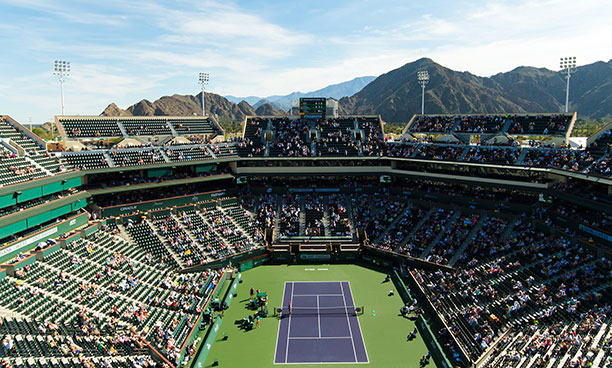 Set in California's Coachella Valley, the Indian Wells Tennis Garden boasts 29 regulation tennis courts alongside the16,100-seat Stadium 1 – the second-largest tennis-dedicated stadium in the world. Constantly developing under the ownership of Oracle founder Larry Ellison, the facility recently rebuilt and refurbished Stadium 1, including an audio makeover.
The new systems include equipment RTS and Electro-Voice, with Technicomm Industries handling the work. 'They decided to totally refurbish the main stadium last year,' says Technicomm Project Manager, Steve Burgess. 'One goal was to modernise the intercom system to become part of our site-wide Dante audio network, and RTS was one of the few brands with that capability.'
Burgess contacted regional RTS rep Jeff Shorsher to arrange a demo. Indian Wells and Technicomm readily agreed it was a good choice. Operating as part of Indian Wells-ft existing Dante matrix system would create great flexibility, enabling both in-house and external communications. In addition, it would enable Technicomm to address another need by eliminating equipment clutter in the broadcast booths.
'Over the years, the booths, which are quite small, had built up a variety of equipment to meet communication needs, including multiple radios, cell phones, and a computer,' Burgess says. 'By integrating everything together in a Dante network, the RTS system met every need and eliminated a ton of gear from that booth. That made a lot of people happy.'
The intercom system is based on an RTS Adam-M digital matrix and uses Omneo IP technology as its network backbone. A total of 15 RTS DKP-4016 desktop keypanels and one rack-mount RTS KP-5032 keypanel are spread throughout the sprawling Indian Wells facility, each fitted with a gooseneck microphone.
'The programmability of the RTS intercom system put us miles ahead of our previous capabilities,' says Burgess. 'We were able to route several Dante audio streams into the system and tailored each keypanel to what that operator needs on it. We were even able to incorporate the audio stream for the Hawk-Eye line judging system, which was a huge advantage for the broadcast team.'
The Hawk-Eye visually tracks ball trajectory and is used to adjudicate disputed out-of-bounds calls in professional tennis events, including the PNB Paribas Open at Indian Wells. The system requires audio input from the court effects and umpire microphones, which previously was achieved with the help of an outboard mixer.
'Having a Dante network with RTS keypanels changed all that,' Burgess explains. 'Now we use the speaker on the keypanel as the playback device. All we had to do was go into our Dante controller, drag the source channels over to the destination and boom, it was done. Very simple, easy to use, and sounded great. It's a good example of the flexibility of a Dante-based system. It also eliminated a whole bunch of gear out of the broadcast booth, which was another goal of ours.'
Another major aspect of the upgrade was the PA system. Quantum Electro-Voice, rep Dave Brown,came in to consult on product selection and provide evaluation samples.: 'We had a loudspeaker demo shootout; six companies, no loyalties, and the EV products flat-out won on sound quality and aesthetics,' Burgess reports. 'The Evid ceiling speakers were the clear choice based on superior sound quality.'
A total of 60 Evid PC 6.2 ceiling speakers were installed in the facility's premium areas, including the owner Larry Ellison's private suite, along with other viewing suites, the champions' lobby, and fitness centre. For wall-mount indoor/outdoor applications, the facility chose the Evid 4.2, a weather-resistant design that combines attractive styling and flexible mounting with high fidelity and exceptional intelligibility.
The installation itself was a challenge for Technicomm due to delays in the Stadium 1 refurb: 'We ended up connecting and testing everything outside the audio cage before we deployed it,' says Burgess. 'Jeff Shorsher and Calvin Ogawa from RTS really had my back, programming the system on site and interfacing it with the broadcast system. They made sure that when we put the gear out in the field, it worked right the first time.'
While the audio and intercom upgrades were focused on Stadium 1 and broadcast logistics for the annual BNP Paribas Open, the facility is in year-round use for other events as well, including music and arts festivals, major concerts, and as a graduation venue for area high schools.
'By adding RTS intercoms and EV loudspeakers to the Dante-based system they had in place, Indian Wells now has the flexibility to provide the audio and communications for any type of event, with scalability that will make future expansion easy,' adds Burgess. 'And history tells us that there will be ongoing enhancements at Indian Wells Tennis Garden for years to come.'
More: www.electrovoice.com