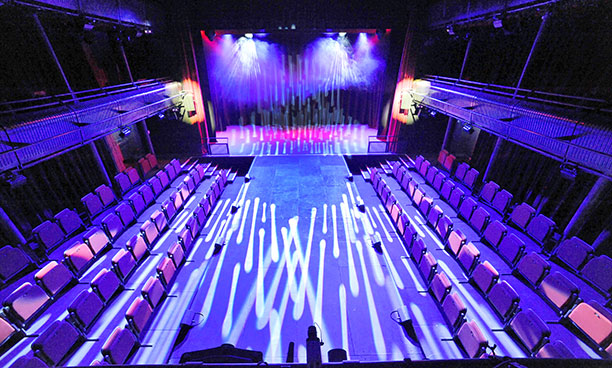 Opened in late 2016, the New Adelphi Building at The University of Salford now provides a stunning new home for the University's Arts And Media programmes.
Designed by Stride Treglown, the £55m development is extraordinarily well-equipped, even by the standards of contemporary higher education. In addition to a 350-capacity main theatre, the building features a large studio theatre, two TV acting studios, 36 dedicated rehearsal rooms, six recording studios, 12 music ensemble rooms, two dance studios, three floors of dedicated wood, metal, textiles, print and plastics workshops, seven photographic studios, 14 instrumental tuition rooms, a double height 100-sq-m band/live room and a suite of flexible performance and studio spaces.
Autograph Sales & Installations won a competitive tender to design, supply and install the audio system for the main theatre. To maximise its usefulness for all kinds of performance, it was designed from the outset to be readily re-configurable in terms of seating and stage placement – in fact, it operates in five main modes (respectively referred to as End Firing, Long Traverse, Short Traverse, Thrust and In The Round) plus another setup dedicated to cinematic use.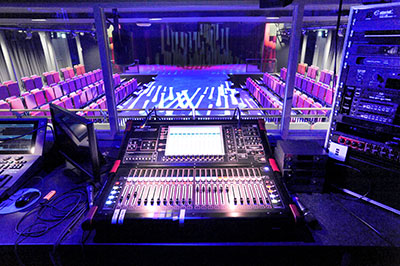 With the tender won, Autograph's Euan Mackenzie worked closely with the local team to develop and refine the design as installation progressed. In collaboration with the University's Laurence Boot, he specified a distributed audio system using 60 EM Acoustics speakers, powered and controlled by the company's Advanced System Amplifiers.
'The bid required the design, provision and installation of a sound reinforcement system which would be adaptable and able to accommodate the requirements of this multipurpose, flexible venue while complementing the pre-installed infrastructure of the space,' Mackenzie explains. 'It was made clear by the technical team at the University that they needed a system which would cover all performance orientations without the need to de-rig/re-rig any speakers, since they would usually have little time to reconfigure the space for different applications. With some careful planning we managed to achieve this without the need for any physical re-patching anywhere in the design – in fact, all six configurations are now recalled from a simple touch screen.
'The audio infrastructure is essentially two systems in one – a fairly conventional proscenium end-firing arrangement plus a dedicated vocal system,' he continues. 'The former comprises six EM Acoustics EMS-126's (two each) at the left, centre, and right positions, with two EMS-61s as side fills for the upper balcony, plus two EMS-118 subwoofers.
'The combination of the end firing system plus the vocal PA (under-balcony delays and front fills) brings a further 48 EMS-51 speakers around the room into use, only 16 of which are part of the main end-fire system. Two more EMS-61's mounted behind the main left and right speakers provide side fill for audiences seated on stage when the venue is configured for 'in the round' and "short traverse" use, or as stage fill monitors for the other orientations.'
All the core digital signal processing (in terms of per-configuration routing/muting and delays) is done centrally by a QSC Q-Sys 250i unit which is connected to the various elements of the system via a fully redundant Dante network.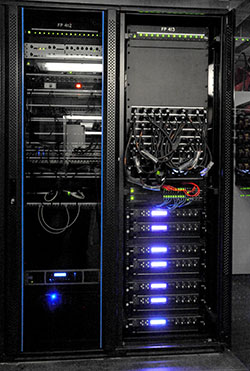 'The systems inputs are fed from either the DiGiCo SD9 console – via a DiGiCo Orange Box, both also supplied by Autograph – or can be sent directly over Dante from the QLab system to make use of the surround speakers for spot effects,' Mackenzie says. 'The Dante network also includes the seven EM Acoustics DQ10D Advanced System Amplifiers, which handle most of the individual speaker processing. We also programmed the DiGiCo SD9 to output Left, Centre, Right and Sub via the matrix outputs, although we've left provision for more if required later.'
To extend the usefulness of the room further, Autograph was also asked to commission the (already installed) speaker system for cinematic playback. This included supplying additional I/O cards for the Q-Sys DSP, along with a new Denon DN-500AV surround processor.
The principal point of system configuration recall is a 7-inch QSC Q-Sys touchscreen located in the control room, allowing any of the five main modes to be recalled instantly with a single button press – it also allows implementation of the dedicated Cinema Mode to configure the End Firing system and surrounds to suit film playback and muting of the balcony and/or upper balcony speaker arrays if required.
Autograph also supplied a suite of Sennheiser wireless microphones and ancillary items including ew 500-965 G3 handheld systems, SK 500 G3 body pack transmitters, ME4-N and MKE-2 lavalier mics plus directional antenna and antenna splitters.
Beyond the new theatre space, Autograph additionally provided a mobile PA system for the university's music department, again exclusively EM Acoustics: two MSE-159 full-range enclosures, two EMS-118 subwoofers, two each M-C12/M-C15 stage monitors, DQ10D and AQ10 amplifiers, plus sundry cabling and flightcases. A compatible sound system was also required for the smaller Studio Theatre and Autograph duly supplied four EM Acoustics EMS-81Xs, two EMS-115s and a single DQ10D DSP-equipped amplifier.
'Putting this many speakers into a theatre has its complications as the infrastructure typically limits how the system can be implemented. Thankfully we had enough speaker tie-lines to achieve everything we needed to,' Mackenzie reflects. 'During commissioning, it was apparent that two different subwoofer positions were required to cover all seating layouts. To achieve this we programmed a high-pass/low-pass switch in the relevant Q-Sys snapshots to allow for the same facility panel to be used for front fills or subs depending on the stage orientation.'
'The theatre team came to us near the end of commissioning and explained that the depth of the "thrust" could vary depending on application, a factor that would necessitate changes to the position and timing of the front fill speakers depending on the dimensions of the thrust. So instead of programming presets to cover all the possible combinations, we added control of the front inner and outer delay timing to the Q-Sys touchscreen controller.
'We simply could not have delivered this level of quality within budget without EM Acoustics speakers and amplifiers – their product portfolio allowed us to create a truly multi-purpose, integrated audio system using several different models, each appropriate to the application but sharing a common voicing,' he concludes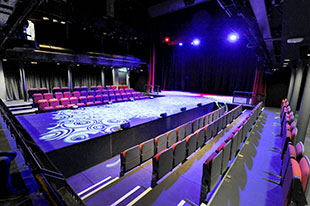 'The open architecture nature of Q-Sys (which we have used on many similar projects) enabled us to design a system without limitation, which is capable of further expansion and refinement if necessary and which meant we could reduce a relatively complicated system design into a single, easy-to-use touchscreen interface. The in-house technical team can wirelessly reconfigure any part of the Q-Sys DSP from the theatre and if required, Autograph can even log-in remotely to assist when needed.'
Laurence Boot, the Technical Manager at the School of Arts & Media, was Autograph's principal point of contact throughout the entire project: 'Working with Euan and the team at Autograph has been so easy from start to finish. From the detail in the initial tender bid and the proactive response in subsequent design meetings in fine-tuning the spec to our needs, it was clear that Autograph were an excellent choice to complete the project. Euan has always put the emphasis on what we, the client, want to achieve and from our perspective, the project has run smoothly.
'Being quite a complex brief, there were several ways to go about it and there were choices to be made along the way. Euan worked very closely with our technical team, was receptive to suggestions and offered different options to help us find the best possible solution within our budget. The Q-Sys is a great example of this – although it was a system we weren't too familiar with, I now don't know what we would do without it.
'What we have ended up with is a powerful, flexible audio system that sits discreetly within the space and can be reconfigured at the push of a button,' Boot summarises. 'The EM Acoustics speakers and amps sound fantastic, the DiGiCo's possibilities are endless, the Q-Sys makes everything so easy, and the patch that Euan created is logical and complements the existing infrastructure. The great thing about Autograph is that we know, should we ever need any support, they are only a phone call away.'