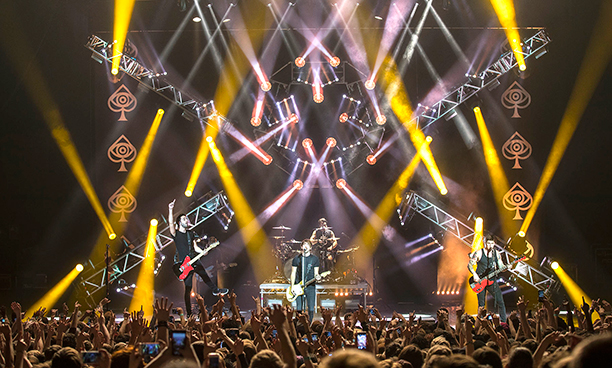 US punk-pop band All Time Low recently played dates around the UK and Europe as a teaser for their forthcoming album, The Young Renegades. Continuing a long-standing working relationship with the band and engineers Phil Gornell (FOH) and Ricky Fernandez (monitors), Adlib supplied two Midas consoles for the tour, and Adlib's new Scottish division supplied L-Acoustics racks-and-stacks for gigs at Glasgow Academy and Edinburgh Corn Exchange – together with technician Andy Russell.
'It's always good to work with Adlib in any capacity,' says Gornell. 'Having the consoles with us throughout the tour gives continuity on the control side across the wide variety of venues on the itinerary, and having the ProX enabled me to get the best out of the different house systems we encountered.'
Gornell, also a studio engineer with his own facility in Sheffield, started specifying the ProX a couple of years ago, initially to mix a Bring Me The Horizon tour, with sound equipment also from Adlib. Before that he was a keen Pro2 fan – until the amount of inputs required passed a certain level making an upgrade necessary. Currently he's using 72 channels – generously for a four-piece band with one additional musician onstage.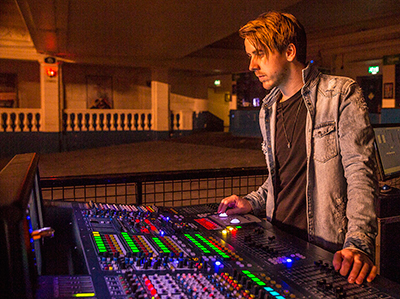 He regards it as a highly versatile console and appreciates the many inputs and outputs as well as the onboard processing which offer all the dynamics he needs without running an additional rack or a laptop, including 22 plug-in effects and three different onboard effects racks.
The FOH console's Neutron System Engine and DL431 48-channel splitter sit onstage, making its footprint especially convenient for smaller venues. The splitter enables sources to be worked independently by both FOH and monitor engineers. Gornell points out that this has been possible before, but this is the first time using just one rack device.
What the console cannot presently do is to protect itself from drink being thrown into FOH – as it happened during the gig in Manchester, killing eight faders and forcing Gornell to mix on the four right-hand extra faders for the remainder of the show – which was 'pretty hectic'. Adlib Director Dave Jones immediately organised a replacement console, which arrived for the next show in Edinburgh, where Gornell also had the reassurance of the full Adlib audio package. This comprised 24 L-Acoustics K2 speakers with SB 28 subs, plus ARCs and dV-Dosc for fill, all driven by LA8 amplifiers.
For the tour's two opening acts, Waterparks and Swmrs, Adlib supplied a full proprietary MP4 wedge monitor system complete with a mics-and-stands package.
Adlib Client Manager Phil Kielty comments: 'We were thrilled to continue our long-standing relationship with All Time Low. We are also more than happy to support Phil Gornell in any of his projects, as he is one of the best young UK engineers in this field. We hope to see Phil, Ricky, Dan and all of their production team back again soon with Adlib.'
More: www.adlib.co.uk