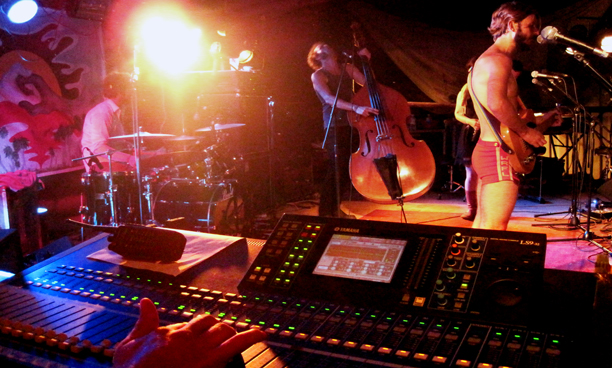 Bringing FOH, foldback and backline equipment out to play, Melbourne-based production company Richer Sounds continued its five-year run supporting the Bilyana Folk Rhythm & Life Festival. This year, however, it was with the additional assisteance of Yamaha Commercial Audio.
Yamaha's flagship I-Series speakers provided the system on the three-day festival's Stage 2, with four 18-inch subs, four 15-inch subs and four 12-inch mid-highs used to serve an 800-strong crowd. Three T5n power amplifiers provided the Watts, with a DME24-N programmable DSP handling system processing.
'The lows were tight and the tops crisp and dynamic. Every engineer who used the rig had the same positive response and a very changed opinion of Yamaha's Commercial Audio speaker products,' says Richard King of Richer Sounds.
King's main task was handling the extensive foldback duties on the Main Stage, with a rig consisting of eight 12-inch wedges, an 18-inch sub and 15-inch mid-high as drum fill, all run through DME processing and powered by PC-N Series power amps.
'The sound quality of the I-Series speakers as foldback was very impressive, especially for their size and weight,' he says. 'Everyone loved the on-stage sound. Again, there were lots of surprised faces on foldback engineers when tuning the system; almost flat graphic EQ settings for most sends.'
Main Stage mixing used an integrated EtherSound system, comprising Yamaha M7CL48-ES digital mixing surface at FOH with three Yamaha SB168-ES digital stage boxes at the stage, and a Yamaha LS9-32 digital mixer for the foldback. It was King's first experience of the LS9-32: 'Ease of use-wise, I thought it was brilliant,' he says. 'Sends on Fader mode is great because you get to everything so quickly.'
All acts on The Main Stage were recorded using a 32 channel Dante interface added to the M7CL-48ES, enabling live multitrack recording via a single Cat5 link to a laptop running Steinberg's Nuendo 5 DAW software. The Dante Ethernet audio protocol from Audinate eliminates the need for external computer audio interfaces, making every Yamaha digital desk capable of quick and easy multitrack recording.
The festival takes place in Eldorado (30km southeast of Wangaratta, Victoria). Part of its success comes from its support of local up-and-coming bands, alongside established acts from all over Australia. The festival has grown steadily since it began 16 years ago and and now welcomes a crowd of 5,000 – limited only by its setting within the Chiltern Mt Pilot National Park.
More: www.gmx.yamaha.com