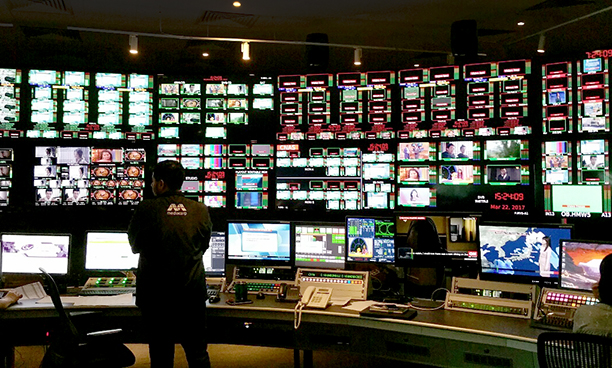 A massive complex housing all production facilities for the seven television and 12 radio channels, Mediapolis is the new headquarters of Singapore broadcaster, Mediacorp.
At the centre of its expansive operational infrastructure, a Lawo VSM Broadcast Control and Monitoring System provides overall control. In addition to workflow management and time savings in programme preparation, VSM gives Mediacorp a high level of failure safety through its sophisticated redundancy.
Mediapolis uses two redundant Miranda routers for switching of audio and video – connected directly and switch simultaneously on a master/master basis rather than without using a master or backup hierarchy. The VSM system ensures the essential synchronisation of the routers, and add also means that maintenance of one router can be carried out offline without interfering the production schedule. In full operation, each router acts as a backup for the other in the event of failure.
The Mediapolis studio complex is divided into four sections – Central, Radio, TV and News. The Central section is further subdivided in three areas: CMX (Ingest), DC (Distribution/Contribution) and Playout. The Distribution/Contribution section uses VSM's Virtual Package Workflow to allow an actual incoming source (OBs or downlinks) to become a virtual source and made available as such throughout the facility. If one device in the signal chain fails, the virtual signal is uninterrupted, leaving the signal flow intact while the device is switched or changed.
To its Virtual Package Workflow, VSM adds a sophisticated user rights management making the virtual layers available throughout the facility conditional on the individual rights of the operator configurations. Only qualified staff can access signals, depending on the rights granted to them.
The use of VSM and its control logic also gives Mediacorp major benefits and time savings. Previously, operators had to ask the DC head to connect tielines, but now they can actively select their tielines in advance – shortly before or well in advance of a production – and save them as a production workflow. When the production is scheduled, operators load their workflow configuration with one click and are ready for production.
For the TV section studios, Mediacorp makes use VSM's Boxing feature, which allows a production to be transferred from one studio to another for preparation purposes or in the even of malfunctions. With Boxing, an operator can prepare a production in one studio and run it from another, by switching to the saved workflow with a button push. Similarly, in case of equipment failure, an operator can switch a production workflow from one studio to another instantly.
Within the Radio section of the facility, the same redundancy concept is applied through the use of two Lawo Nova 73 audio routers working in parallel. For the 12 (plus two backup) radio stations, VSM provides the overall control and monitoring system and keeps the crosspoints of the two redundant routers in sync as well as monitoring the transmission chains for silent detect, alarm management, and other functions. Further tools include a scheduler to prepare crosspoints that should be set a pre-defined time – using two software and two hardware control panels, VSM is able to control the complete transmission chains. With VSM's TX control panel, operators can see at a glance the complete signal chain of all available transmission chains, and can access all lower levels of the chain, freely assigning studios and resources in accordance with availability, problems or failures.
In the first phase of introduction, four of Mediacorp's TV channels have been using the system for playout since February 2017.
More: www.lawo.com