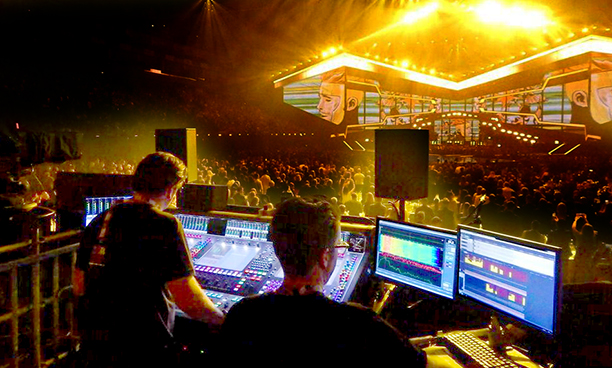 For many, Chris Martin's tribute retrospective 'duet' with George Michael at the Brits 2017 was the event's highlight. For sound provider Britannia Row, it was another opportunity to demonstrate its technical prowess…
'Chris Martin was singing live while George's vocal was a recording of 'A Different Corner' – but not a studio recording,' says Michael's long-time sound engineer, Garry Bradshaw. 'This was a live take from one of his concerts on the Symphonica tour For me, hearing his voice again really raised the hairs on the back of my neck.'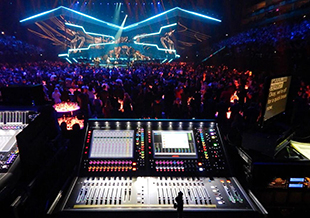 Unsurprisingly a lot of attention went into this performance: 'We rehearsed on site the previous day,' Bradshaw explains. 'Myself and Dan Green for Chris Martin had half the desk each, I had the left side, three faders, one of the music which was recorded specially for this performance, one of George from the tour and a fader for those little bits of dialogue that were cut into the tribute.'
The desk, a DiGiCo SD7, was provided by BritRow, as was the entire live audio infrastructure. 'Josh Lloyd from Britrow looked after front of house, he is very, very good; I have one hundred per cent trust in him – he knows that SD7 better than anyone I know.'
For the full show mixing duties, two DiGiCo SD7 consoles were positioned at FOH, with Chris Coxhead using two of DiGiCo's new SD12 consoles for the hosts, presenters, winners and guests. A further two SD7s were used for performers' monitors, manned by Wayne 'Rabbit' Sargeant and Jimmy Nicholson.
'As well as having a live audience at The O2, the Brits is a live-to-air television show with a large global audience, so we needed to make sure we had full redundancy,' Lloyd explains. 'Consequently, I had a main and a backup SD7, two SD Racks with an A and B set of inputs, plus a Mini Rack for all playback, radio mics, etc, at FOH. I had a further SD Rack to handle effects and local inputs and outputs, so all the I/O was on the optical network if I needed to switch consoles. I also used a DiGiCo Orange box for the Waves set-up, which we ran on an external computer; it really helped us because both engines on the SD7s could see Waves as well as allowing the backup console to see it in case of a change over. The OB truck received analogue splits on stage, where they mixed the show separately for the broadcast element.
'The two SD12s were also a redundant pair, with two SD Racks for inputs on stage and I/O. Again, all inputs were on the optical network and mirrored. The SD12 was the step forward for us and for Chris Coxhead. Even though his channel count isn't particularly high, he always wants to have 24 faders in front of him for handle the winners', guests' and presenters' mics. For the amount of information he needs, the SD12's two screens and small footprint made it ideal. Both our SD12s had come straight off DiGiCo's production line – everything, including mirroring, worked straight away and we felt confident to have them on a show of this magnitude. It worked really well for Chris as he had the security and familiarity of using DiGiCo, just with a new worksurface.'
The monitor position SD7s were set up as an A/B system, allowing them to flip between artists, checking in ear monitors and for preshow checks. For playback and radio mics, each console had its own Mini Rack, allowing them to see all inputs at all times.
'Normally a few of the bands insist in bringing in their own desks,' says Colin Pink, who headed the audio team. 'However, because of DiGiCo's dominance in the market and their products' great flexibility, this year every band was happy to use the in-house consoles rather than bringing in their own. The one exception to this rule was Coldplay, who like to have their own system, as the integration to the rest of their racks is rather complex. But as they use SD7s, it was DiGiCo all the way.'
'In terms of what I had to do, I don't think there's another console that could handle a show that complex,' says Lloyd. 'I made use of the console's Snapshot facility to run scenes, which makes things very smooth for line checking as I don't have to load any files during the show. There were a couple of bands that rehearsed off site, and the bands that use DiGiCo on a regular basis already had sessions they wanted to use. For those offsite, I could send them a template to use for rehearsals and for bands that wanted to use their own show files I could use either presets or the partial load function on the session page. You can't really do that on any other desk. We had DiGiCo's Mark Saunders available during the show and Dave Bigg came down for prepping. The support has always been fantastic. It all worked extremely well.'
The PA was a distributed design based on L-Acoustics K1, with other elements from their range used for fills.'
'The system sounded great,' Bradshaw reports. 'When it's rigged so high up – as it so often is for these television spectaculars – then coverage of the floor area is a concern. But we had lots of time to walk around and check. We were there two days, one for the George Michael performance and one for Little Mix which I also looked after, and it sounded really good everywhere.'
Event Production Managers for the event, Kate Wright and Lisa Shenton were similarly pleased: 'Britrow are extremely good at providing the support for all the elements of this show - the performing artists' individual needs, the live event (live audience experience) and the TV show.'
Radio Action
The set-up also used several racks of wireless microphone and IEM equipment from Sennheiser, with engineer Andrew Lillywhite assisting with RF co-ordination expertise and Joshua Thomas in overall charge of RF co-ordination. For the RF-heavy environment, Sennheiser's Digital 9000 series microphones were used byall presenters – SKM 9000 transmitters with EM 9046 receivers and ME 9004 capsules, with the suspension mount of the capsule delivering a 'condenser sound' with no handling noise.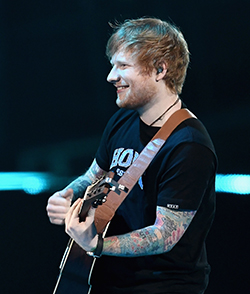 Several artists also chose Sennheiser, with Little Mix opting for SKM 5200-IIs with EM 3732 receivers and MD 5235 capsules, and Bruno Mars and Robbie Williams using the same combination. Katy Perry's SKM 5200-II was customised in 'Dollar Bill Green' with real currency wrapped on the body and battery slot of the transmitter, again with EM 3732 receiver and MD 5235 capsule. Digital 9000 hit the spot for Ed Sheeran, with a combination of SKM 9000 transmitters, EM 9046 receiver and MD 9235 capsules for vocals, guest vocal and backing vocals. He also had an SK 9000 bodypack transmitter with a custom cable for acoustic guitars.
'This year's Brit Awards was a packed show featuring ten artists, six of which were fully live and four were live vocal to track, all of which had a high RF count,' says Pink. 'Once again, Sennheiser supported The Brits both with equipment and with technical support, in the form of Andrew Lillywhite and Jack Drury.
'Sennheiser provided all of the eight 9000 Series handheld mics for the presenters and ten 5200 systems for the artists, as well as another 9000 Series system for Ed Sheeran. On top of this, they supplied a "get-out-of-jail" toolbox which came in handy for extra guitar packs and further presenter bodypacks. We used a total of 28 IEM systems on the show with approximately 60 packs, also provided by Sennheiser, their 2000 Series being the preferred option for nine out of the ten acts.
'A couple of the acts brought in their own RF systems – again primarily Sennheiser 9000 Series and 2000 Series IEMs. This gave an RF channel count for the main show of over 160 channels. Obviously, this was a major potential issue in the ever-decreasing usable spectrum. It was a great asset having Andrew on site to assist Britannia Row's Josh Thomas in managing the rather packed spectrum. Using the 9000 Series mics helped the situation a lot and all the Sennheiser systems performed flawlessly on the show. A great testament to the stability of their architecture.'
'The Brits is a hard and complex show that involves coordinating radio frequencies between many bands as well as house equipment,' says Joshua Thomas, RF Co-Ordination for the show. 'There are added challenges, as each act expects the highest quality of service and equipment. This is brought together with the support of Sennheiser, which provided an array of equipment and two technicians on site to give a helping hand. I found the support of Sennheiser second to none; they supplied me with the tools to run a very tight and high-profile show to the highest of standards. It was great having Jack and Andy on site to bounce ideas off and help with problem solving any issues that came up. I am very much looking forward to working with them and Sennheiser again.'
'Sennheiser's history with the Brit Awards goes back a long way and it was a pleasure to be involved in the 15th year the company has supported the show,' adds Jack Drury. 'It's satisfying to see our equipment tested to extremes at a show as challenging as the Brit Awards and come out performing flawlessly. Congratulations to all the winners and the performers, but also to all the technical and production staff that make that show possible. We look forward to working with you again for year 16.'