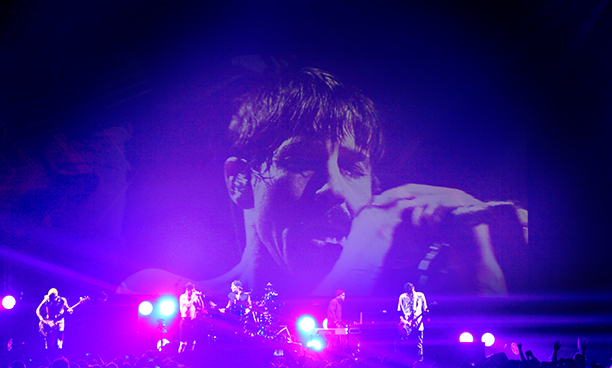 An extensive tour of Europe arena at the end of 2016, saw Czech rental company High Lite supply a combination of L-Acoustics K1, K2 and Kara systems for the Red Hot Chili Peppers.
Having first worked with the band in 2011, High Lite has been their chosen European PA supplier ever since: 'We cooperated on a few projects with Narci Martinez, RHCP's Production Manager, in 2010 and he experienced our hardworking approach and how seriously we take our responsibilities,' says High Lite's Michal Siska. 'We were delighted that Narci chose us as PA supplier for their 2011 tour and that he has continued to put his trust in us.'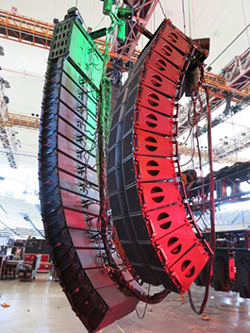 FOH Engineer for the tour was Dave Rat with Mark Vanderwall at the monitor position, with Jim Lockyer – who also designed the PA system – taking on the role of Systems Engineer. 'The band's management has always been committed to quality audio on tour,' Lockyer explains. 'They know this is how the artist reaches their audience. To that end, they move about the arena during the show to listen in different locations, to make sure the paying ticket holder gets their money's worth. If there is ever an issue, I'll be the first to know about it. Thankfully that is very rare.'
The decision to use L-Acoustics products stems from the collaboration between Lockyer and FOH Rat: 'We had used it on the previous Peppers tours and always had great results,' Lockyer says. 'We both feel that as far as fidelity, controlled coverage patterns and the fact that these products can deliver high volume, full range sound without the need for additional flown subwoofers, it fits our needs. Also, the excellent software prediction tools that Soundvision provide allows us to accurately map venues for amazing coverage.'
Another consideration was that Lockyer and Rat wanted access to the same systems on a global basis: 'This brings a higher audio consistency to our audiences worldwide,' Lockyer says. 'With good availability of the K2 boxes for this tour, we adopted them for our underhung boxes as well as side hang arrays. The 10° of vertical dispersion of the K2 cabinet, plus the adaptable horizontal coverage, work beautifully for the high sides of most arenas that we encounter.'
The system comprises 14 K1 with six K2 under hung per side for the main system. The first side hang comprises two K1 and 14 K2 per side, while side hang two features 12 Kara per side. An additional two ARCS II per side were flown for in fill, whilst front fill comprises 12 Kara. Sub bass is handled by 36 KS28 subs, 12 each left and right, sitting across the front of the stage. Amplification is provided by a total of 60 LA8 and 13 LA12X units.
'I added two K1 boxes to the top of the array to raise the high-end density for the long throws into the corners, as each box has three high frequency drivers with only a five-degree vertical coverage,' Lockyer says. 'For our third hang upstage, I chose Kara boxes; because of their high output, 110° coverage and small size, they are perfect for the shorter throw and higher vertical coverage needed. The combination of the three arrays allows us to achieve 270° of coverage in most venues.'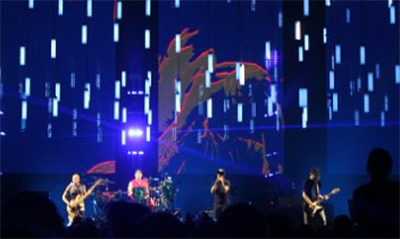 'We fly all the PA amp racks within the arrays and use a seven-metre-long truss system to drop all cabling up and off stage,' adds Radek Lesa, systems engineer and crew chief for High Lite for the tour. 'This allows for very short speaker cable runs. We use a Rocknet based digital drive system using Cat6 cabling, and deliver both AES and backup analogue signals to the amps. The PA rolls in on the chariots four high and the amp racks come in blocks of four, and they fly right out.
'It's a very clean set up with only a distro and drive rack upstage on the floor. The sub/front fill amp rack sits under the down stage corner of the stage after it rolls in. The sound quality and coverage of the system is really quite amazing, front to back, side to side, the voicing of the systems are identical, which makes it very easy to replicate the FOH mix anywhere in the arena.'
'When I am mixing, my goal is to connect the artist with the audience in the most immersive and exciting ways possible,' explains Dave Rat. 'The reason I choose an L-Acoustics system is that having a sound system which offers clarity, uniform coverage and especially a smooth reproduction of the entire audible spectrum is absolutely critical to achieving my goal.'
'The band has full confidence in their audio team and their sound,' Siska concludes. 'I believe the best comment is sometimes no comment. If the band is enjoying playing and they don't have any problems, you generally don't hear much from them.'
More: www.l-acoustics.com