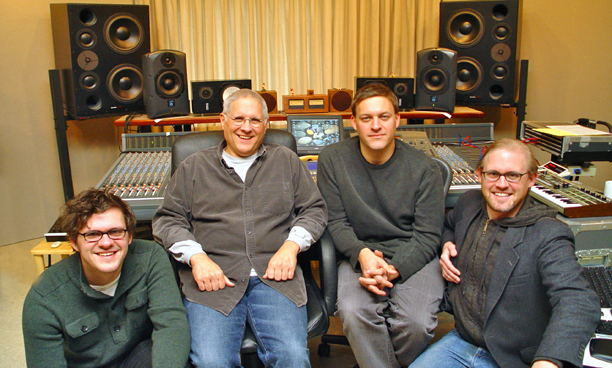 Bringing his PhantomFocus System to bear on the monitor loudspeakers at the Nashville studio operated by producer/engineer Kyle Lehning. The Compound is where Lehning and sons Jason, Jordan and Eric ply their trade, and the speaker tuning prompted a rather surprising response – 'Damn you Carl Tatz' was the subject line of the email sent by Kyle.
With Dynaudio M3 mains monitors set up, the studio felt that the ATC SCM20 close-fields needed the same treatment. 'You made the Dyns sound so amazing, the consensus here is that we need you to PhantomFocus the ATC near fields now…' the email concluded.
There are approximately fifty steps in the proprietary PhantomFocus System implementation protocol, some of which include phase and laser alignment, damping, isolation mounts, assessment of engineer/speaker placement relative to their room's primary axial modes, proprietary speaker distance and angle, crossover points for filtering and parametric equalisation. The hardwar needed to meet Tatz' criteria can include monitor stands, concrete, sorbothane and other isolation materials, custom floating plenum mounts, and custom crossover and parametric equalisers. The evaluation and implementation is a two-day process and can be applied to close-field, mid-field and large soffit-mounted monitors, regardless of manufacturer.
Lehning is a multiple Grammy winner, has been producer and engineer for country music icon Randy Travis throughout his career, with multiple gold and platinum awards to his credit. The head of Asylum Records through the 1990s, he has produced and recorded artists as varied as Little Richard, George Jones and Restless Heart.
More: www.carltatzdesign.com