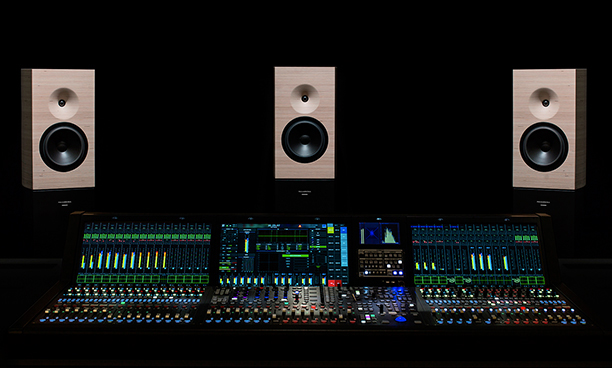 Amadeus has announced the completion of a new install and acoustical design project for the Philharmonie de Paris concert hall studios, including the use of a Lawo digital mixing console and Amadeus Labs Philharmonia reference loudspeakers.
The project required Amadeus Labs to re-design of both of the prestigious Philharmonie de Paris concert hall's studio control rooms and main monitoring. Amadeus Labs collaborated with the studio's sound engineers, while continuing to work alongside Jean Nouvel, the Philharmonie de Paris' own architect and designer.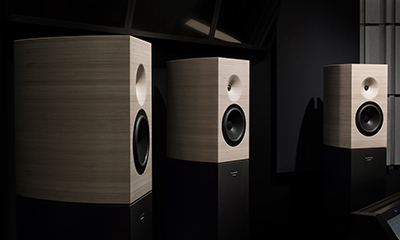 With its design, ergonomics and acoustics devised by Yasuhisa Toyota of Nagata Acoustics and Sir Harold Marshall from Marshall Day Acoustics, the Philharmonie de Paris is among the most prestigious symphonic halls in the world. Built to host the world's leading symphonic orchestras, the mixing and mastering studios required a monitoring system of upmost transparency, placed in optimised acoustic spaces.
'Having acoustics and electro-acoustics match up is a basic premise of our design philosophy when designing and equipping spaces dedicated to creation, mixing, mastering, postproduction or dubbing, or just high-level listening, among other tasks,' says Michel Deluc, co-founder and R&D Manager for Amadeus. 'Our inclusive approach and dual expertise have made us able to create perfectly imagined spaces where the acoustical response has been perfected, ready to house the monitoring systems we design in parallel. We have many successes in the field of acoustical and/or electro-acoustical custom design.
'The acoustics I design aggregate a lot of techniques, imagined and developed during the past 30 years for various complex spaces,' he continues. 'This specific project required an acoustical response combining high clarity, great intimacy and depth, echoing the choices Yasuhisa Toyota and Sir Harold Marshall made for the Grande Salle.'
The main Philharmonie de Paris rehearsal room hosts not only public orchestra rehearsals, but also pre-concert events, conferences and chamber music/amplified music concerts. The Studio Salle de Répétition has custom acoustical treatment, very similar to the treatment used in the Studio Grande Salle. Each studio is equipped with a unique surround monitoring system, comprising five Amadeus Philharmonia speakers, along with an Amadeus ML 15 D subwoofer.
The Philharmonia design features a curved structure consisting of 547 wood veneers accurately machined and assembled. It features a hybrid laminar port using progressive termination. 'The distinctive construction technique of Philharmonia helps neutralise standing waves affecting sonic clarity and low-frequency definition, through an extremely complex internal structure using a combination of interlocking panels arranged in two perpendicular planes, each hosting several tuned notch resonators,' Deluc says.
'This allows a dramatic decrease in sound coloration through a crossed structure of longitudinal and trans-verse reinforcements. This proprietary technique is in part inspired by Amadeus-designed professional Mains monitoring systems used in large recording studios, the 'crossed structure' itself drawing on aircraft manufacturing processes, particularly wing design.
The components have been carefully selected, while the amplifier includes a built-in DSP module with digital filtering functions such as system EQ, time alignment between HF and LF sections, limiter parameters, thermal protection of the transducers. 'The aerodynamics of Philharmonia's tuning ports is a masterpiece,' Deluc claims. 'It has been largely empirical, inspired by aesthetic aspects, and based on hybrid low-velocity laminar ports using progressive termination. This leads to a rather complex and major technological innovation, whose theory is still in its infancy.'
The Philharmonia two-way, self-powered speakers feature a 28mm soft-dome tweeter and a custom 8-inch woofer, and boast analogue and digital inputs with a customized integrated DAC and an amplitude linearity range (±2dB) from 43Hz to 22kHz. The high-frequency driver features very low dielectric losses and high thermal conductivity, loaded behind a fast exponential waveguide machined in wood, giving control over spatial dispersion.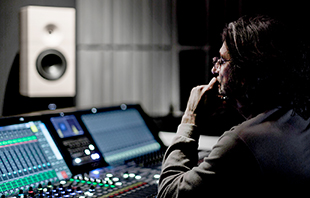 The cabinets are custom manufactured from layered Birch and stand 1.6m tall, the casing contains the electronics inside the lower part of the speaker enclosure. Each speaker is comprised of 547 wood veneers, accurately machined, aligned and glued. Each speaker features a unique hybrid laminar port using progressive termination for reproducing low frequencies. Machined into the wood material along the full height of the speaker system, the very low velocity port yields optimal linearity for the lowest possible distortion.
The acoustic system developed by Amadeus Labs for the Studio Grande Salle includes a custom Helmholtz resonator, placed in front of the room, to control sub-bass frequencies, an Amadeus Labs designed diaphragm-based resonator, placed in front of the room, including two low-Q subsets – the first tuned to 100Hz, the second to 56Hz.
Dual Amadeus Labs designed hybrid diffusors are placed on the sides of the room, including three nested subsets (diaphragm-based resonator, wide range absorber, diffusor), treating the frequencies between 200Hz and 1kHz, with further diaphragm-based resonators placed at the read of the room, two tuned to 100Hz, the third to 84Hz. There are also two Amadeus Labs diaphragm-based resonator at the rear sides, tuned to 100Hz, and hybrid diaphragm-based resonators – including two superposed subsets, a diaphragm-based resonator and mid-frequency absorber – treating the frequencies between 150Hz and 600Hz, placed behind each Philharmonia monitor, to attenuate the residual energy emitted by their vent. Diffusors on the sides of the room treat the frequencies between 1.5kHz and 6kHz.
The Lawo mc256 mixing console is housed in acoustically optimised furniture, with a low acoustical footprint.