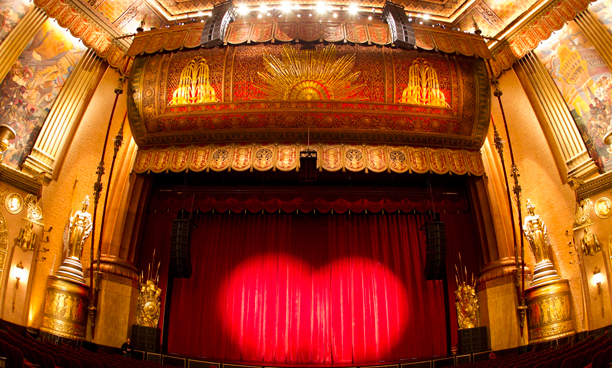 As part of a US$16m renovation, New York's Beacon Theatre has been equipped with a JBL VerTec line array system by Clair Brothers Audio Systems. The installation marks the third audio retrofit of an MSG-owned venue by Clair Brothers, which has also installed VerTec systems in New York's Radio City Music Hall and the Chicago Theatre.
'We've had a lot of great experience with the VerTec line arrays, not only in terms of performance performance, but also with consistent positive feedback and requests from clients,' says Clair Brothers Senior Engineer Jim Devenney. 'With the success of the Radio City Music Hall and Chicago Theatre installations, it was a simple decision.'
To meet the needs of the venue, Clair Brothers looked to JBL's new DPDA-equipped powered line array elements, featuring AES digital audio, BSS Omnidrive HD signal processing and HiQnet compatibility. A total of 16 JBL VerTec VT4888DP-DA powered midsize line array elements with DrivePack technology are included in left-right arrays of eight per side, with three VT4880A fullsize arrayable subwoofers per side. In addition, two VT4888 midsize line array elements and two VT4882 mid-size arrayable subwoofers provide top balcony fill, with four VT4487ADP-DA powered compact line array elements providing down fill.
The VerTec arrays comprise the first in-house PA system that has ever been installed in the Beacon, according to MSG Entertainment/Radio City Music Hall Head Audio Engineer, Tom Arrigoni. Previously, acts would load in, set up and sound check their own sound equipment hours before the show opened. 'With the new system, our clients can leave their own PA's on the truck and simply utilize our in-house system, saving time and energy. Touring engineers have told me that our venues now have some of the best sound quality and acoustics in the world,' Arrigoni says.
'MSG prides itself on providing the best in sound and entertainment to the customer in every venue we have,' Arrigoni adds. 'No touring sound engineer would have the time, during a load-in, that we had while installing and perfecting this system.'
More: www.clairsystems.com
More: www.jblpro.com