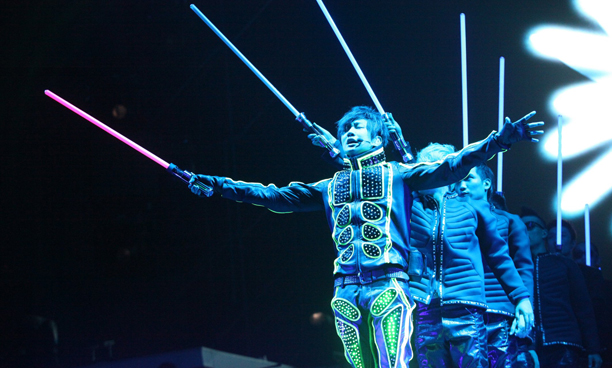 The 10,000 fans witnessing the launch of JJ Lin's second major tour at Beijing's Capital Indoor Stadium were treated to a showcase of the Singaporean singer's song catalogue. Running till June 2011, the tour will cover eight Chinese cities, Singapore, Taipei, Kuala Lumpur and HK.
'JJ wanted the same equipment list as for his last world tour because the equipment had proven to be a system that could keep pace with his rigorous dance routines,' says monitor engineer Howard Chen. This includes a Sennheiser HSP 4 headset coupled with the SK 5212 bodypack, giving an unobtrusive sysem as well as peace of mind for the performer on stage. In addition to the SK 5212 and HSP 4, Sennheiser also provided Lin with the SKM 5200 wireless microphone with MD 5235 capsule and the EM 3532 receiver.
'We were very thankful for the support from Sennheiser Global Relations,' says FOH Engineer Don Lo. 'We notified them about the equipment list just before the tour started but they still got us what we needed.'
Sennheiser first signed an endorsement agreement with Lin in 2007, and has extended it this year to support his second world tour. 'We are glad to continue to support JJ Lin as he is a singer-songwriter who appreciates the finer points about sound quality,' says Vince Tan, Sennheiser's Relations Manager for Asia and Australia.
The I Am tour features 33 songs, including a medley similar to the one Lin sang at the 2010 Golden Melody Awards in Taiwan. He was one of this year's GMA's Best Mandarin Male Singer Award finalists. The singer, who now resides in Taiwan, has been recognised abroad, as proven by the string of awards he has collected from around the region.
More: www.sennheiser.com.hk