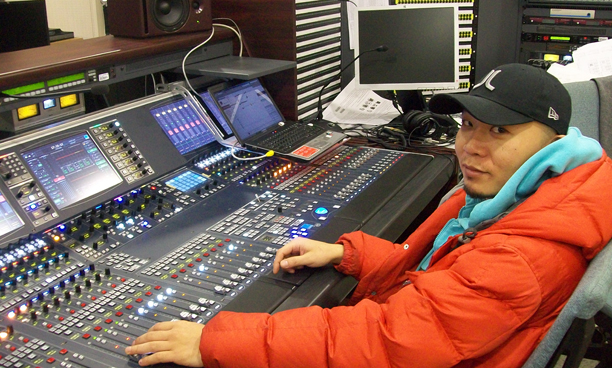 Completing the second phase in the conversion of its TV production facilities to HD, Korean on-line retailer GS Home Shopping has made Lawo mc²66 digital mixing consoles standard for its audio operation.
The broadcaster _ now Korea's largest on-line retailer – began the transition to all-HD production in 2008, converting the first of its three control rooms, which was equipped with an mc²66 desk. 'We have used this console for almost two years, for 20 hours of daily live production, and we haven't once had to reboot the system,' says In-huk You, Head of Audio engineering. 'Above all, the Lawo mc²66 meets our criteria of stability and sound quality.
With analogue broadcasting due to shut down completely in two years time, GS is finalising conversion in its second control room – installing a Lawo mc²66 MkII version. International. Configured with 16+8+16 faders in a 40-fader frame size, the system offers a 8192x8192 mc² HD core and 128 channels full DSP. Both desks have been supplied by Korean distribution agent Soundfox
'GS could add any functions they wanted to the system, for example customising the GPIO control function, specifying port redundancy on the Dallis I/O frames, and including seven HD/SDI embedded/de-embedded audio channels for the video server,' says Peter Moh, CEO of Soundfox International. 'In the future, they are intending to construct a network so that I/Os can be shared across all three control rooms.'
Since its first broadcast in 1995, GS Home Shopping has offered an advanced form of shopping in which media and retail businesses are integrated, succeeding despite the apparent lack of customer awareness of mail-order in Korea. Today, GS Home Shopping offers 24-hour TV shopping through cable and satellite broadcast, and boasts its own extensive production and studio facilities in Seoul.
On completion of the migration in 2011, the GS Home Shopping will use three Lawo systems in a networked configuration.
More: www.soundfox.co.kr
More: www.lawo.de