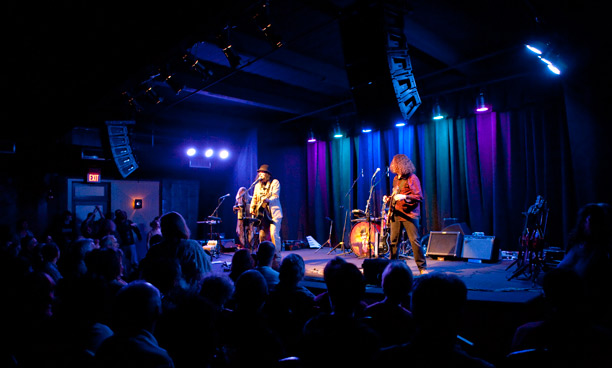 Opened in early October, the Tupelo Music Hall (White River Junction, Vermont) marks the world's first installation of Meyer Sound's new Mina line array system.
'Connecting audiences with music' is the aim of the 4,000-square-foot space, which has been built inside a former railway freight depot. New acoustically treated walls and original hardwood flooring enclose a space devoted to the ultimate experience of live music. 'The sound in the room is incredible, really,' says Tupelo Music Hall owner Scott Hayward. 'For example, last night Marc Cohn was trading licks with his guitar player and it was astonishing the detail you could hear. It was like being on the stage no matter where you were in the room.'
The system includes five Mina line array loudspeakers per side, in addition to a 700-HP subwoofer and a Galileo loudspeaker management system with one Galileo 408 processor. RMS remote monitoring is implemented. Scott Tkachuck, system designer and project manager for Rainbow Production Services/New England Audio Tech, tuned the system using a Sim 3 audio analyser. 'For rooms like this, Meyer Sound absolutely nails it with Mina,' he says. 'It has amazing output and headroom in a small footprint, and the high end is just spectacular.'
The Vermont venue is the second such venture for Hayward, with the first Tupelo Music Hall opened six years ago equipped with a Meyer Sound system based on the M'elodie line array loudspeakers.
'Meyer delivers consistent quality across the board, which is right in line with what we do here,' says Hayward. 'The Mina s are the ideal boxes for this room. They are small and unobtrusive, but powerful –really powerful. And it's great to be the first to have them.'
The Mina system will have a full workout on every style of music at Tupelo Music Hall in White River Junction, with bookings already listed for Dave Mason, Judy Collins, Aimee Mann, Savoy Brown, The Subdudes, Johnny Winter, the Average White Band, and Jefferson Starship, among others.
More: www.meyersound.com