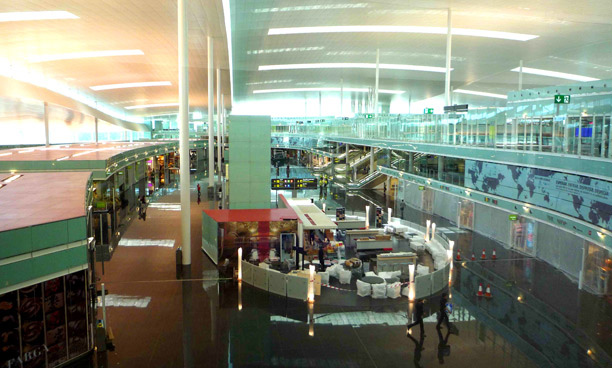 For the technical installation at Barcelona airport's new Terminal One, management company Aena called in one of Spain's largest audio, lighting and systems engineering companies to design, supply and install the PA and digital audio control system.
Similar to T4 at Madrid's Barajas airport – described as the largest and most technically advanced Ethernet audio systems in Spain – engieering company Lexon chose a MediaMatrix system and 314 Crest CKi power amplifiers, each equipped with a CobraNet module for interconnectivity between each amplifier and the nucleus of the PA system network, the MediaMatrix MM-980 Mainframe.
The MediaMatrix MM-900nt Series is a software-based, integrated system design, control and management system, which requires only microphones and their preamps, power amplifiers and speakers to complete. It is based on an open architecture that uses a modular computer mainframe which, fully loaded, can provide all the necessary signal processing for up to 256 audio inputs and 256 audio outputs. The MediaMatrix MWare software provides the the ability to design, wire, operate, control and troubleshoot a complete digital audio system in the software domain, as well as create custom user interfaces for each task, with different levels of access to the system.
The MediaMatrix system installed into T1 Barcelona comprises: eight Mainframe MM980nt with dual, removable, mirrored redundant hard drives; 39 CAB-8i eight-input digitally controlled mic/line preamp, analogue-to-Digital CobraNet audio bridge (CAB); eight CAB-8o 8-out, digital-to-analogue CobraNet audio bridge(CAB); and 26 MM-DSP-CNII Digital Processing Units for processing audio ported to or from a CobraNet network (via the CAB CobraNet audio bridges).
Besides the audio distribution system, Lexon's engineering department also handled the acoustic design of the building. For this they used the acoustic modelling software tool, Ease, to determine the number, model and positioning of the loudspeakers. Based on their findings, Lexon provided the engineering firm Sampol with the necessary speaker enclosures and microphones along with the 314 Crest Audio Cki amplifiers (equipped with NX CobraNet modules) to complete the installation.
The new terminal covers 544,066-sq-m and has 168 check-in counters, 50 jetways and 15 baggage carousels as well as a huge retail area. Already an area with one of the highest rates of air traffic growth in Europe, the commissioning of T1 has elevated Barcelona airport from its status as a regional airport to become the main hub serving the Mediterranean and southern Europe. The T1 building represents a logistical and technical complexity, which employs more than 15,000 people and is destined to handle more than 100,000 passengers daily.