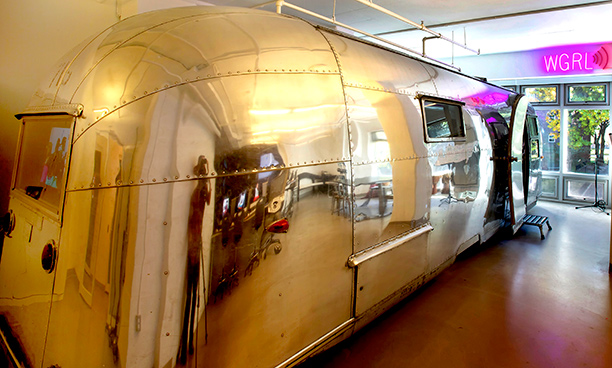 Ronnie Lane's Mobile Studio was among the first mobiles ever to hit the road. Armed with a Helios mixing console, Studer and Revox tape machines, and Tannoy monitors it was made yet more newsworthy by the 26-ft Airstream trailer that contained it.
Currently operated by Paul Madden, Lane's LMS was built by audio engineer Ron Nevison in 1972. It is no longer completely unique, however, as NYC's Lower East Side Girls Club has brought a 1958 Airstream trailer into its WGRL Internet Radio Station & Recording Arts Program.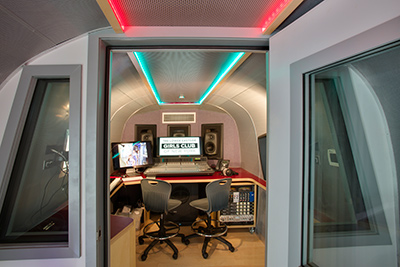 Serving as a teaching, production and recording studio, the trailer has pride of place in a second storey window of LESGC's new US$20m sustainably built, 12-storey building. The studio was designed and configured by Walters Storyk Design Group cofounder/architect/acoustician John Storyk,
The Airstream studio joins an eclectic assemblage of innovative LESGC educational and career training options for low-income teens and families in New York. Spread across three floors and 30,000-sq-ft, the LESGC facilities range from a digital photography/computer graphics/3D-printing lab and hands-on BioBase labs to small business training and 'incubator' spaces, as well as a 64-seat planetarium.
The Airstream recording studio was a pet project of Dave Pentecost, a career television editor and musician whose wife, Lyn, co-founded the Lower Eastside Girls Club in 1996. In 2004, the couple fell in love with an iconic 1958 Airstream trailer and purchased it to park besides their Adirondacks cabin, in upstate New York.
'When the LESGC building became a reality, we felt our Airstream could serve a better purpose in the community as a sound studio and brought it to Manhattan,' Dave explains. 'I'd met John Storyk years earlier, reconnected with him in 2010, and invited him to contribute his skills to retrofitting the Airstream as a recording studio.'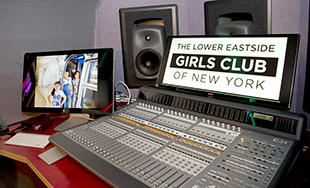 'We've built recording studios in a basement (Electric Lady), and a duplex penthouse overlooking NY's Highline (Jungle City),' Storyk says, 'but this is the first time we've had the chance to ply our trade in an Airstream trailer.'
'As a visiting professor of acoustics and studio design for the Berklee College of Music and other schools, I have an abiding interest in educating young people. Dave brought WSDG a compelling challenge – was it possible to create a viable recording studio within the confines of a 140-sq-ft trailer? The obvious answer was yes, although the geometry, the equipment selection and the acoustic considerations did present us with significant design restrictions.'
The Airstream Studio includes a live room for radio, vocals and instruments, and a control room. In this respect, it is one of a kind, as the LMS was designed to provide recording facilities for performances outside. Although the new Aistream is also able to produce and mix internet radio programming for the Girls Club's new WGRL internet radio station, soundtracks for student videos and for the LESGC Planetarium's constantly evolving educational presentations, and to record live student performances from the stage of the second floor community room in which it resides. It can accommodate up to three students and an instructor in the control room, and another three-to-four people in the live room area. The space outside the trailer is a combination classroom/ live performance stage.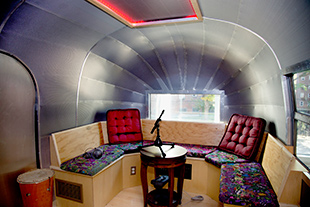 Alhough compact, the control room is 5.1 surround ready, and features an array of professional gear including an Avid C/24 24-fader mixing console/Pro Tools controller, Genelec 8250A monitoring with a 7270A subwoofer, and outboard processing from Manley, API, Neve, Universal Audio and SSL. This set-up is complemented by a selection of mics from Neumann, Royer, Shure, AKG, EV and Sennheiser. A serious professional-level studio, the Airstream is designed to give a realistic hands-on recording experience.
'In my teaching experience I have seen an increasing number of young women seeking roles in pro audio production,' Storyk observes. 'The LESGC Studio will serve as a valuable introduction to the field of audio recording and mixing. It will be very interesting to watch – and hear – the skills they develop, and to see them transfer these skills to the real world.'
Lyn Pentecost was part of a group of community, grassroots and financial supporters that formed the LESGC, when they realised there were no girls' equivalents to the city's various Boys Club organisations. The new building has more than a dozen separate programme sites, and can accommodate up to 200 members simultaneously. The upper stories (accessed via a separate entrance), are allocated to mixed income rental apartments, approximately half of which are available at middle and low-income rates.
The Airstream brings additional kudos to the facility and its courses – and is another feather in the cap of Storyk and WSDG. 'However, if an opportunity to design a studio for a submarine ever comes up, we might take a pass,' Storyk says.