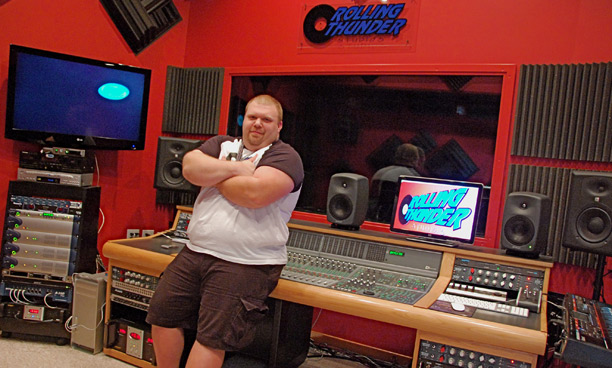 Recognising the growing role being played by regional recording studios in the creation of music for release, rather than demo, Rolling Thunder Studios in Michigan has installed a 5.1 monitoring system from loudspeaker monitor specialst Genelec.
Providing a creative and production home for local artists – for everything from demos to albums and mastering – Rolling Thunder has installed five Genelec 8240A Bi-Amplfied DSP Monitors and a 7270A Active DSP Subwoofer, purchased from dealer Sweetwater. The LCR array is mounted atop the control room's new Avid Icon D-Command console, and the rear surround monitors are wall mounted.
'These are great-sounding monitors,' says studio owner Nick Vasquez, who founded Rolling Thunder Studios 17 years ago and nurtured its expansion into new areas such as audio postproduction and scoring (Rolling Thunder recorded some of the score to director Michael Moore's documentary Capitalism: A Love Story). 'I travelled to Sweetwater where I listened to a lot of monitors, and the Genelecs just sounded better than any of them to me.
Vasquez researched his studio's move into 5.1 surround monitoring and discovered that Genelec monitors consistently came out well: 'They are the most versatile, in terms of being able to handle all kinds of music, as well as the most precise and with the most clarity, especially in the mid-range,' he says. 'They are fantastic monitors and I'm glad to have them in my studio.'
More: www.rollingthunderstudiosllc.com
More: www.genelec.com