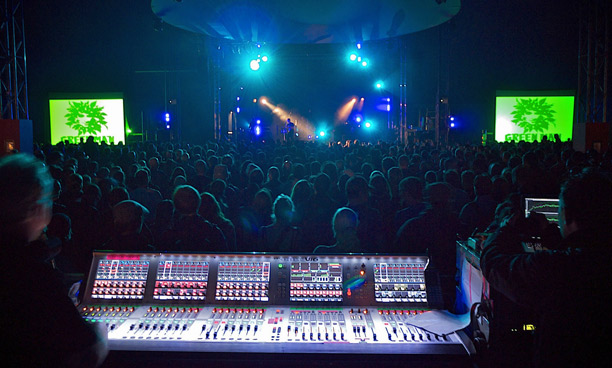 Among the summer performances from UK festival collective Chai Wallahs was Green Man, where underground talent and established artists shared the bill. Out front was a Soundcraft Vi4 digital desk. 'The Vi is my weapon of choice,' says sound engineer Harry Bishop, who took a's Vi6 on the festival circuit last year.
Chai Wallahs were out this summer with a Vi4 sub-hired from PA company Hark – with whom the sound engineer has a close relationship. Hark also provided a Vi6 and Vi1 at Green Man's second stage. Bishop has been using Soundcraft desks since the early days of analogue, and remembers mixing on a Series I: 'I am familiar with the analogue desks but the Vi is a step above, and my favourite digital desk.'
'The most obvious factor is its analogue feel – because the channel strip is linear, it's not multi-layered, and everything is one touch away. Another factor that grabs you immediately is the intuitive interface and the user programmable fader pages, while the sound of the desk is also excellent – the parametric EQs are very accurate and analogue sounding. This is my "go-to" desk – there's no need to look anywhere else.'
Chai Wallahs choose their own roster of artists who rarely bring their own production and so Bishop ends up mixing most of the performances – a situation with which he is entirely comfortable. And ith at ten bands a day over four days without soundchecks, providing live audio is no easy task.
For many of the repeat performances Bishop can call up stored mixes: 'Inside the desk structure I use the snapshots to recall the different band mixes and when a new band comes through I recall a line check snapshot which provides me with a clean slate to work from,' he says.
The desk provides a highly flexible mixing environment, he says, notably because of its zoning and monitor capabilities. With 27 output buses, each containing parametric and graphic EQ, he has a near endless ability to zone different areas, set delay times, assign record groups and monitor sends. 'Because we have a number of zones [to address], I set quite a detailed programme which I design on the offline editor. I have a sub array, which I can control on the matrix, I have delays and a café seated area on a different matrix. It's quite an in-depth design.'
His tasks also involve creating five monitor mixes via talk-to-stage while using the shout box to communicate with the stage manager.
This summer Harry Bishop has trucked his trusty Soundcraft desk around other UK festivals such as Glastonbury, Secret Garden Party, Bestival, Shambala, Beach Break Live, Manifest on the Isle of Man, Sunrise and Electric Picnic. He followed ths by undertaking PA tech duties on a short Groove Armada club tour, where another Soundcraft Vi4 was deployed for stage monitors and a Vi1, Soundcraft's new compact derivative, was at FOH.
More: www.soundcraft.com