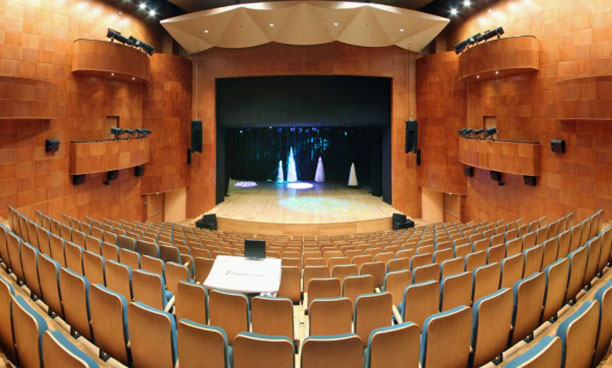 Designed by Arch-Studio, the Kashubian Philharmonic Hall in Wejherowo, northern Poland, is home to a multi-purpose concert hall, culture centre with numerous workshops hosting a wide variety of arts activities. To meet the main 400-seat hall's technical requirements, Polish sound reinforcement systems specialist and system integrator Ambient System was called in by the venue's owners to supply and install the audio equipment and coordinating the A/V design.
The company's brief was to provide a system that would provide high-quality sound and even coverage throughout the auditorium, and also be easily moved outdoors for larger events.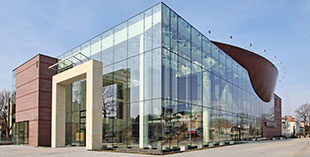 'We had to find a system that was big enough for outdoor events, but not too aggressive, as well as being ideal for smaller indoor performances in the concert hall,' Ambient System's electro-acoustic system specialist, Pawel Zakrzewski, explains. 'Our clients also specified that the equipment installed had to be compatible with visiting acts' rider requirements.'
After selecting an Outline audio package as the best solution, Pawel used Outline OpenArray 3D software for sound prediction, coverage and weight distribution. The main rig's configuration features a LR set-up, with each hang comprising six Outline Butterfly CDH 483 line array elements for mid-high frequency reproduction and a Butterfly CDL 1815 enclosure for the low end. A pair of Outline DBS 18-2 passive subwoofers are positioned at either side of the stage for sub-bass extension, and four Outline Mantas used for front fill. Thanks to their 120° horizontal coverage pattern, the Mantas enclosures avoid any unwanted reflections from the room's walls.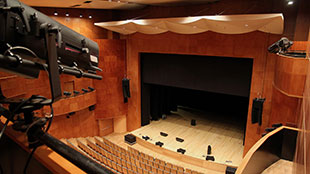 Four Outline iSM 115 powered monitors and six Outline iSM 212 wedge monitors are on hand for stage monitoring, and the set-up's powerhouse comprises four Outline T-Five amplifiers (driving the Butterfly CDL 1815 and front fill enclosures) and eight Outline T-Seven units (for the Butterfly CDH 483 and subs).
Using their built-in iMode DSP platforms, the monitors can be controlled via Wi-Fi with the dedicated Outline app. 'This configuration works well for the venue, because it's designed to be very flexible,' Zakrzewski explains. 'For opera productions, classical concerts or other events not requiring high-level subwoofer content, the sound team can disconnect the Outline DBS 18-2 subwoofers and remove them if necessary, as the main hangs are able to ensure top-grade sound down to 40Hz.'
'Using one manufacturer's hardware offers the advantage of perfect compatibility between presets and limiters, as well as achieving maximum efficiency and sound quality from amplifiers and loudspeakers,' he adds. 'We chose Outline for this installation for its products' great flexibility and the fact that Butterfly systems are able to ensure very natural transparent sound for all music genres. Moreover, as well as carefully testing all its products, Outline also ensure great support from its engineers if and whenever necessary.'
More: www.outline.it