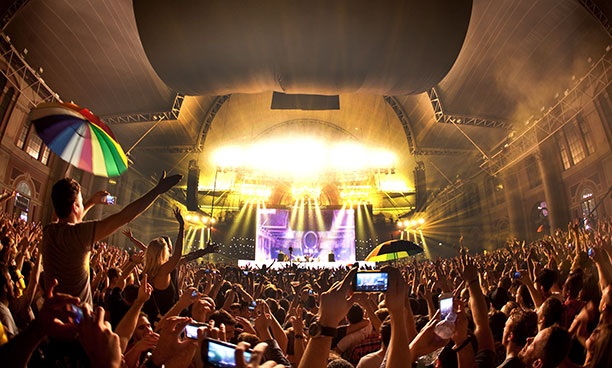 'Just think of a marble and glass shoebox, 40m wide, 16m high and 85m deep…'
Martin Audio R&D Director, Jason Baird is describing the notoriously challenging acoustic environment offered by London's Alexandra Palace – where Capital Sound fielded a Martin Audio MLA Multi-cellular Loudspeaker Array the Above & Beyond Group Therapy 050 live radio broadcast.
Notorious for violent reflections inside the venue and noise complaints from neighbours, the event offered MLA its first opportunity to prove itself in the glazed venue. For A&B, meanwhile, this was to be one of the biggest events in the dance music trio's calendar.
'The Great Hall is a beautiful space; but when it was built in 1873 no one envisaged that the building would need to play host to the high volume of a modern day concert,' says Capital Sound Account Manager, Martin Connolly. 'Unfortunately, the amazing domed glass roof is only a minimal barrier to sound propagation.'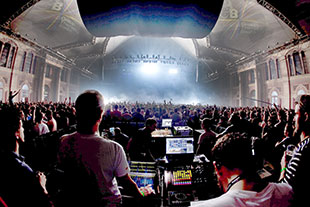 Above & Beyond, who operate both full band and DJ set-ups (but were tonight operating in the latter mode), had wanted to use MLA, and when they brought in Loudsound's
Dan Craig he readily agreed, having worked successfully with MLA during the Field Day and deadmau5 shows at Hackney's Victoria Park, as a precursor to this summer's Hyde Park British Summertime Festival. Following confirmation that the lampies hadn't stolen all the weight loading capacity the decision became a no-brainer.
Capital Sound Technical Manager, Ian Colville, immediately set to work on designing the system, with Jason Baird providing support: 'We have used Martin Audio W8LCs here in the past – but whatever system we have used, it has always required delays,' he says. 'This time, we felt it was time to put our faith in MLA and do away with delays.'
For both Dan Craig and promoter Lock 'N' Load Events, the decision was vindicated. Craig reported that by operating to a 98dB threshold inside, production didn't receive a single noise complaint. Yet the greatest 'illusion' was inside the venue, where by mapping the venue to optimise and 'Hard Avoid' selected areas, the clarity of the signal gave a distinct impression that the various DJs were playing much louder.
'We had observed this characteristic from Day 1,' Colville reveals. 'If a venue is completely resonant free then the sound appears louder.' While the complete system design is conceived ahead, the system tech will always make late adjustments on the fly, he said, such as towing in the PA a fraction. In this case once production got on site they found the venue was not quite as long as drawings had indicated and so certain measurements needed to be re-evaluated.
Fortunate then, that the system tech on this occasion was Toby Donovan, who worked as the MLA tech on the highly successful Hyde Park concerts: 'I have never encountered a system quite as clever as MLA,' he says. 'But you still have to use common-sense in the physical world.'
With the venue once again hosting a steady flow of events, and Capital Sound as one of its main service providers, this could prove highly significant.
For this show, the LR system was rigged 11 MLA elements per side (atop a single MLD Downfill) – with two W8Cs each side for out fill and eight W8LM as front fill. The PA was flown fairly high (with slight downward tilt) but then towed in marginally to keep it off the walls, using Delta plates and three motors per hang. 'We only needed about 1° – to avoid distracting reflections; it's what we would generally do in noise sensitive venues,' Donovan says. 'We also needed to minimise spill all round – the rear rejection with this system is really good.'
The SPL profile was built over a 5dB spread – using zero at the mix position, +2dB at the crowd barrier and -3dB 85m back at the rear curtain.
With 'Hard Avoid' applied to this back wall, the design also used the Audience and Non-Audience zones with the appropriate optimisation settings – the latter tapering off at the stage (from the drape line to the back wall behind). Having the 14 MLX subs arranged in a broadside cardioid array allowed him to enter delay times and change the dispersion control – using the software to electronically curve the sound into an arc. 'Due to the narrow width of the venue, we were only running at 90°, so this was a pretty tight LF beam,' he notes.
'Such was the coherency and lack of distortion, that everyone I spoke to couldn't believe we were only running at 98dB,' Toby Donovan offers. 'It was exactly the same on the Joe Satriani tour where we were running at 99dB but sounding like 103dB. Our ears deceive us into thinking that it's so much louder.'
All of which was to the benefit of Above & Beyond's Group Therapy 050 show, fronted by the trio of Jono, Tony and Paavo and also featuring support from DJs Arty, Andrew Beyer, Boom Jinx and Guy J.
Martin Connolly was also satisfied with the outing: 'When we supported Subculture and Come Together at this venue for Lock 'N' Load Events two years ago with a hybrid system it worked well,' he says. 'But the sound was no match for this. When you are not battling against reflections or ambient noise and can aim the sound off the walls, you will always appear to get more volume from the system at sensitive sites like this. Everyone agreed, particularly Seamus [Morley], the tour manager, who described the sound as 'epic' and confirmed that we had made absolutely the right choice of PA.'
More: www.capital-sound.co.uk
More: www.martin-audio.com