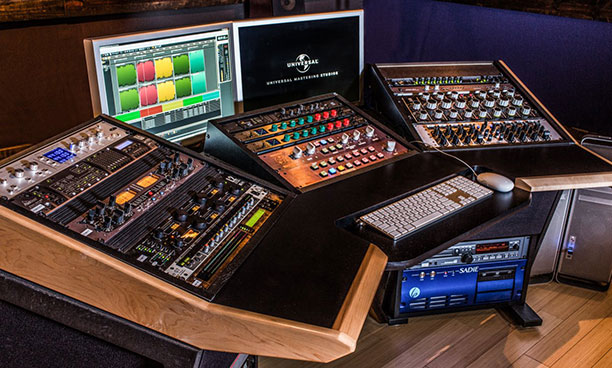 Los Angeles-based Universal Mastering Studios has updated its mastering and production systems with Sadie Series 6 workstations, which will operate with Prism Sound digital converters.
In total, three mastering rooms and four production rooms have been equipped with new Sadie 6 systems, each running native in a Sadie blue box. These are supported by four Prism Sound Lyra 2 audio interfaces, and a Prism Sound multichannel modular ADA-8XR AD/DA converter has been added to each of three mastering studios.
'This is a major contract for our company, and one of our biggest mastering studio projects to have come to fruition in recent years,' says Graham Boswell, Prism Sound/Sadie Sales & Marketing Director. 'Universal Mastering Studios' rooms are some of the finest mastering rooms in North America. It is also hugely rewarding to see our ADA-8XR converters and new Lyra audio interfaces being readily accepted into a facility that is so significant on the world stage.'
'Universal Mastering Studios has always been focused on having state-of-the-art facilities and this helps keep us on the cutting edge of audio technology for all of our clients,' says Universal Mastering Studios' Senior Director of Operations, Nick Dofflemyer,. 'Another reason for our choice was simply that Sadie systems sound great. We like the fact that Sadie offers multiple ways of performing editing tasks, as well as a lot of extra features that you don't get with other DAWs. Their reliability and compatibility with different audio formats was equally important to us and we're happy to have upgraded the converters in all our room so that they can deal with 192KHz audio.'
Universal Mastering Studios has been delivering top class mastering services for over 22 years. Its primary responsibility it to provide post production audio services to wholly owned Universal Music Group labels such as Interscope, Republic, Geffen, Island, Decca, Def Jam and the Capitol Music Group. It also offers mastering and production services to independent third party clients of all kinds.
'We have the ability to rapidly process mastering requests with a greater efficiency than virtually any other studio,' says Dofflemyer. 'Combining the latest technology with our team of highly experienced engineers enables us to give the best quality of service to our wide-range of clients, which run the gamut from major record labels to independent songwriters.'
Alongside its use of Prism Sound and Sadie technology, Universal Mastering Studios has also added the mastering version of Manley Massive Passive EQ to its Studio B and a Crane Song Avocett monitor controller to Studio C. All the production and mastering rooms incorporate Zero Reflection (ZR) technology and were designed by Delta H Design.
'It's been an exciting time for Universal Mastering Studios,' says Dofflemyer. 'The combination of competitive pricing, first-rate engineers, and the latest in studio technology makes us one of the best studios available.'