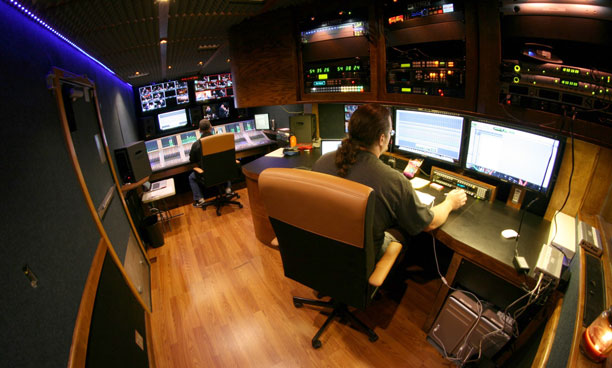 Getting its 100th project for TNDV flagship HD/SD mobile production truck Aspiration was used to produce both outside broadcast and in-house feeds for the annual National Quartet Convention (NQC) in Kentucky. TNDV also brought its recently-launched Vibration audio truck to the venue, to produce surround sound feeds (5.1 and 7.2) and multitrack recordings for the world-renowned, six-day gospel music event.
The in-the-round event was captured at Louisville's Freedom Hall, for later broadcast on TBN (Trinity Broadcasting Network), with veteran TV producer and director Russell Hall overseeing the ten-camera shoot onboard Aspiration.
Hall hand-picked TNDV for the show based on his previous experience with the company and its Aspiration truck: 'We've used six different mobile unit providers for this event over the past 12 years, but Aspiration is specifically targeted toward capturing entertainment and music specials,' he explains. 'It gave us an ideal complement of gear, a large "expando" working space and a small parking footprint. I have said many times that if I built a mobile unit, this is exactly how I would lay it out.'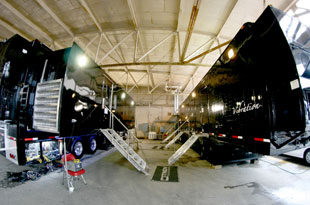 The National Quartet Convention gathers gospel music's biggest stars. Aspiration's layout helped Hall deliver the right product for many production elements beyond the TBN broadcast, including a live webcast, an IMAG shoot and retail videos. The project also required pristine audio production on behalf of record labels and performing artists, a role that TNDV filled with Vibration.
Vibration features a 256-input Studer Vista 9 console and Pro Tools multitrack recording, with the onboard crew using more than 100 inputs for the NQC production and running JoeCo Black Box recorders in the background for redundancy. Hall communicated with the Vibration crew using a centralised RTS Adam intercom matrix, employing multiple party-line channels and point-to-point channel assignments. Similarly, TNDV built a single routing infrastructure between the two trucks, sharing video and audio resources across a Harris Broadcast Platinum router.
For Hall, using a separate audio truck raised the overall production quality to a level not seen at previous NQC events – they had previously mixed and monitored inside the venue, onboard video trucks, in remote audio trailers and via other methods with varied results: 'In the past, we have had to compromise on the quality of the audio capture, and this year we realised we had to make audio just as important as the video,' Hall says. 'We were producing an intense music event over a six-day period that would incur nearly 50 hours of audio capture. Vibration gave us that same commitment to excellence on the audio side that Aspiration provides for video.'
For TNDV President and Owner Nic Dugger, celebrating his 100th shoot with Aspiration at a nearly week-long event that covered 50 hours of complex concerts – with multiple producers and production companies – put into perspective how quickly things have progressed since launching the truck: 'In 25 months, Aspiration has done 100 unique shoots with unique load-in and load-out processes, often for multi-day events,' he says. 'In the meantime we have launched three additional trucks, including our first audio truck with Vibration.'
Dugger also notes that NQC was a special event to reach that milestone, given how much planning went into the production: 'There was a crew member for each position – something not done very often today – which allowed TNDV engineers to truly service everyone involved instead of covering open positions. It's ultimately our jobs to make sure these portable facilities work just like their home studios, which allows everyone to work in complete comfort.'
More: www.tndv.com