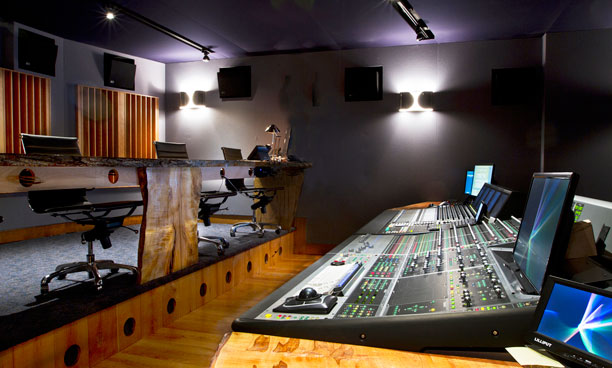 At its base in New York's West Village, Goldcrest Post has recently opened Mix Theatre Q – a mixing room that provides a 'key component of the company's growth plans' and a response to the closure of New York audio post facility, Sound One.
'I proposed that we create what I call a "wow" room,' says staff re-recording mixer Andy Kris. 'Other rooms of similar size were popping up, and I was looking for ways to give us the edge. The Meyer Sound monitors were something that would definitely set us apart.'
Designed to attract new clients to the facility, Mix Theatre Q has a Dolby-certified Meyer Sound cinema monitoring system. Completing the room's equipment package are Euphonix S5 Fusion and Avid Icon D-Control ES mixing consoles, Madi-connected Pro Tools HDX and Native systems, an NEC 2K DCI-certified digital cinema projector, and a Vevo BS65K acoustical woven screen.
The billing has received positive feedback from the NYC cinema community – to date, prominent mixers who have used the Meyer Sound system in the new mixing room include Dominick Tavella, Martin Czembor and Eric Hirsch. 'We've had a lot of interest from outside mixers,' Studio Manager Jim Gardner confirms. 'When we tell them that we have Meyer monitors in here, they respond that they know them and can trust them.'
'On the first mixing sessions, I immediately noticed the improved imaging,' says Kris. 'Because the speakers are so precise and so consistent, if you pan a sound element across the LCR speakers and into the surrounds, the character of the sound does not change. The speakers are unbelievably accurate, and create a very uniform soundfield. You also feel their sheer power – all the low frequencies, which are often problematic in mixing rooms, are uniform across the bass spectrum.'
The monitoring system includes three Meyer Sound Acheron Studio screen channel loudspeakers, two X-800C studio subwoofers, ten HMS-5 cinema surround loudspeakers and a Galileo management system with two Galileo 408 processors. The system was provided by Steven Strassberg Associates of New York, and installed by Avi Laniado, with assistance from Goldcrest Post staff engineer Bob Troeller. Acoustical design was handled by David Kahn in the New York office of Acoustic Dimensions.
'With Meyer Sound monitoring, I now have the utmost confidence when mixing,' says Kris. 'There's no more mystery about how it will sound, because I know I'm hearing everything.'
Opened in 2000, New York's Goldcrest Post is a sister facility to Goldcrest Post in London. Both studios are part of the highly diversified, London-based Goldcrest Films enterprise that has produced or co-produced Chariots of Fire, Escape from New York and Gandhi.
More: www.meyersound.com