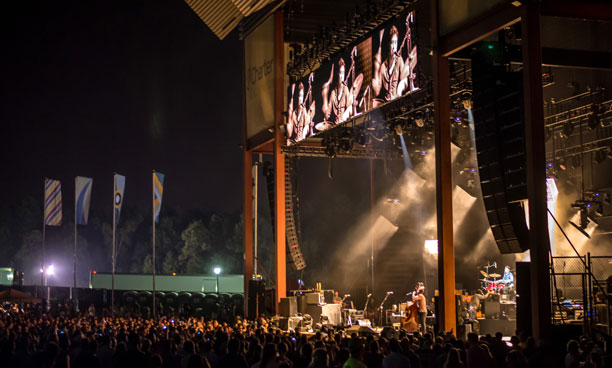 Currently on tour in support of their Babel album, Mumford & Sons continue their relentless international touring with a second sweep across North America.
The Full English tour finds Montreal-based Solotech providing L-Acoustics concert sound systems in the wake of the band's May-June Summer Stampede leg. Systems and support for August-September's Gentlemen of the Road (GOTR) two-day stopover shows have been provided by fellow Rental Network company, LD Systems.
According to Jamie Howieson, Mumford & Sons' audio system engineer and sound designer, the production crew has been deploying 28 K1 mains and six Kara down-fills, plus 16 K1-SB flown subs with 16 SB28 below for most shed dates. Out-fill hangs are comprised of 24 Kudo, with ten dV-Dosc boxes used for lip fill. Arena shows are typically served by 32 K1 and 12 Kara boxes, paired with 16 K1-SB and 16 SB28. Out-fill hangs comprise 24 K1 with 12 Kara down fills, while lip fill is via 12 dV-Dosc.
GOTR festival dates – which have each boasted sell-out crowds of 40,000 fans – take advantage of 24 K1 for mains, 20 more K1 for out fill, and 16 K1-SB and 16 SB28 for the low end. Three delay towers, featuring a combined total of 24 K1 and six Kara provide extended throw, and LA-Rak touring racks each loaded with LA8 amplified controllers have provided system power and processing for all shows.
With Mumford & Sons performing largely on traditional acoustic instruments – albeit plugged into Marshall, Orange and other amplifiers – the band is known for its energy and huge dynamic range in concert. From ultra-quiet to roaringly loud, Howieson notes that he and FOH engineer Chris Pollard have been duly impressed with the performance of the L-Acoustics rig.
'Chris is very comfortable mixing on K1 and is achieving some fantastic mixes from night to night,' he says. 'This system lends itself very nicely to the band's sonic requirements and we've been hearing many compliments from local promoters at the venues on its musicality and coverage, both of which are remarkable. I've also been very pleased with how quickly we can fly everything, which frees up more time for system optimization and sound check. In short, the equipment and support from L-Acoustics, Solotech and LD Systems have been excellent.'