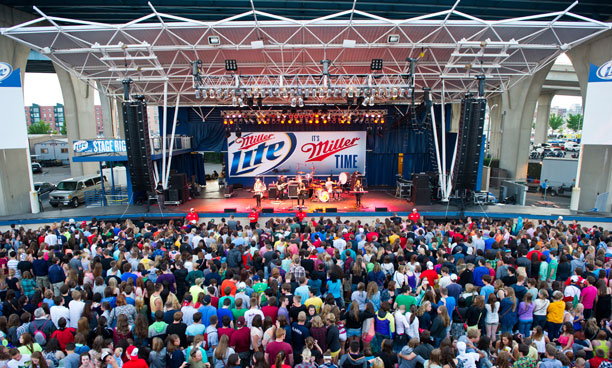 Having held the title of Guinness World Records' World's Largest Music Festival for the past 15 consecutive years, Milwaukee's Summerfest put on more than 700 national and regional acts on 11 stages and drew more than 840,000 visitors to its recent 11-day run at the Henry W Maier Festival Park.
Clearwing Productions has taken care of the festival's audio since 1995, using various sound systems to accommodate the wide variety of music performed. This year, Outline and L-Acoustics found their loudspeaker systems at the centre of the action.
For 2013's event, Clearwing Productions chose an Outline GTO-based system for the Miller Lite Oasis Stage. Hosting acts from Diplo (EDM), Dropkick Murphys (Celtic punk) and Imagine Dragons (rock), to Leann Rimes (country) and Nelly (rap), the system lent itself equally to each musical genre for performances in front of up to 15,000 people.
'Summerfest 2013 was our first experience with the Outline GTO system and I can say the sound quality was exceptional,' says Clearwing Audio Operations/Logistics Manager Bryan Baumgardner. 'We knew Outline was very good, but the system far exceeded our expectations and worked flawlessly. The GTO system was used to provide the sound for a wide variety of acts – that is hard to do and only found in the realm of the best systems. The Outline GTO is right up there.'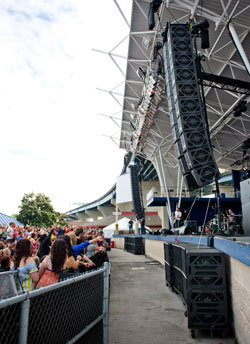 With the variety of artists came a succession of audio engineers to operate the system: 'The GTO was fantastic and a pleasure to work with,' says Mike Grabarczyk, Audio Systems Technician for Clearwing Productions. 'We had a lot of engineers come through, many using it for the first time, and they loved the power and clarity. Others were excited to use the GTO once again. It blew everyone away.'
The Miller Lite Oasis stage system consisted of nine GTO, one GTO-DF down fill and eight GTO-Sub cabinets per side as the main FOH system, with four LIPF-082 Lip Fill cabinets used to even out coverage. Clearwing Productions staff used Outline's OpenArray 3D simulation software to ensure each cabinet was properly aimed to maximise audience coverage.
'We took existing computer models of the stage area and had no problem bringing that into Outline's OpenArray software,' Baumgardner says. 'From top to bottom, everything about the physical design of the system is very straightforward to use.'
'I think we shocked every one of the audio professionals at the festival,' says Outline North America Sr VP and MD, Tom Bensen. 'Beyond the clarity and high-definition of the GTO, the most impressive feature was the headroom – it never seemed to end. We measured over 124dB C-Weighted at FOH, 80-ft from the array and we easily had 6dB or more additional headroom. To be honest, it even surprised me.'
An L-Acoustics V-Dosc system was part of the Lake Michigan shoreline festival in 2000. Since then, L-Acoustics has been in the mix every year, with more than 340 L-Acoustics loudspeaker enclosures used at FOH for 2013. Baumgardner reports that eight of Summerfest's nine largest stages – including the 25,000-capacity Marcus Amphitheater – featured L-Acoustics systems. Five stages used K1 for the primary house arrays. Additionally, the system for the Johnson Controls World Sound Stage (formerly Potawatomi Stage) was built around Kara, while Uline Warehouse featured V-Dosc.
A new addition to Summerfest's gear list for 2013 were L-Acoustics' Arcs Wifo enclosures – these were used at Jo Jo's Martini Lounge, where Clearwing flew one Arcs Focus over two Arcs Wide per side, isnstead of the two six-enclosure Kiva arrays used for previous events.
Arcs Wide systems were also used on half of the stages for both front and side fill. 'We previously used standard Arcs boxes, but Arcs Wide has a larger dispersion pattern that makes it particularly ideal for side fill,' Baumgardner explains. 'Plus, the power rating is better suited for front fill applications. They worked perfectly, and everyone was really happy with them.
'One of the primary reasons we use L-Acoustics is because of its high rider acceptability; nobody says "no" to K1, Kara, Kudo or V-Dosc,' he adds. 'We've been using these systems at Summerfest for a long time now and they consistently prove themselves to be the right choice year after year. It's what the festival wants as well as what the artists want. We don't have to convince anyone to use it.'
Close on the heels of Summerfest, Clearwing supplied 80 K1, 32 K1-SB and numerous other L-Acoustics enclosures for a Pearl Jam concert at Chicago's Wrigley Field.