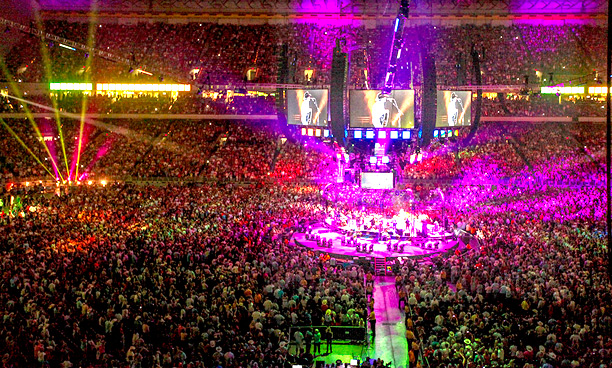 With the second leg of dates set to take place in early 2014, the final in-the-round performance of George Strait's farewell tour took place on 1 June 1 at San Antonio's Alamodome in front of a record-breaking crowd of more than 73,000. The Cowboy Rides Away tour is a milestone in Strait's 40 album career, which has seen him claim 60 No.1 country music singles.
Strait has long relied on FOH Engineer George Olson and Dallas-based Onstage Systems, which supplied an L-Acoustics V-Dosc and Kudo package for most of 2013's tour stops.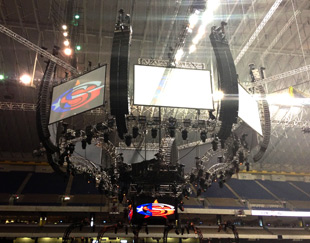 Given the sheer scale of the Alamodome concert (in Strait's hometown), Onstage turned out its full inventory of K1 enclosures, augmented with cabinets from fellow Rental Network provider, Clearwing Audio, for a total of 120 K1 boxes.
The concert's eight flown arrays were evenly spaced in a ring above the perimeter of the circular rotating stage. A total of four hangs of 16 K1 with six Kara down fills addressed the longer north and south ends of the room, while the east and west sides were covered by four hangs of 14 K1 plus six Kara, each topped with two K1-SB filler enclosures to maintain visual continuity between all arrays.
To power and process the K1/Kara enclosures, Onstage positioned three LA-RAK touring racks – each containing three LA8 amplified controllers – on top of every array, significantly minimising the copper cable runs. Down on the floor level, four more LA-Rak were deployed to drive 16 dV-Dosc front-fills and 24 SB28 subs set in an asymmetrical cardioid configuration around the stage.
'Even standing at the very back of the Alamodome's nosebleed seats, the K1 arrays sounded like they were still right in our faces at more than 360ft away,' says Onstage Systems' K1 Audio Tech Eric Thomas. 'The indoor throw capability of the system is insanely impressive.'
'K1's rigging is also incredible,' he adds. 'Once we had the points straightened out, we were able to rig the entire system in four hours, which is just amazing. And using LA Network Manager to group individual boxes and adjust a few FIR filters as needed, the system sounded fantastic right away. Although I love V-Dosc and Kudo, trying to load in and fly those boxes for a venue of this size would literally require a couple of days, so from a logistical standpoint, K1 is totally the best option out there for stadium sound.'
For his stop at the Alamodome – which sold out within six minutes of going on sale – Strait performed a two-hour concert following sets from the tour's special guests, Martina McBride and Miranda Lambert.