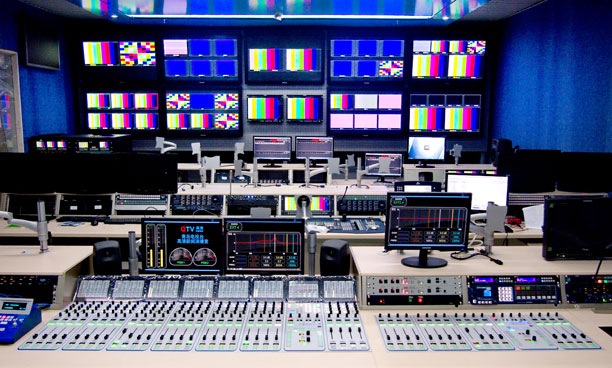 While the 2008 Beijing Olympic Games provided China with an unmissable deadline to move into line with major Western broadcast standards, the Olympic limelight has now passed through London on its way to Rio de Janeiro, shifting China's impetus for modernisation to its approaching switchover from analogue to digital TV broadcasting.
In addition to this, China's take-up of High-Definition and 3D TV, along with the prospect of yet higher-definition picture standards, are also driving changes in both infrastructure and broadcast facilities. The opportunities here are great...
The shutdown of China's analogue TV network is set to take place between 2015 and 2018, and has seen many of the country's major broadcasters putting their own modernisation programmes in place. Among the equipment manufacturers presently benefitting from all of this activity, Lawo is involved in a series of high-profile placements of its digital mixing and routing systems – in both television studios and OB units.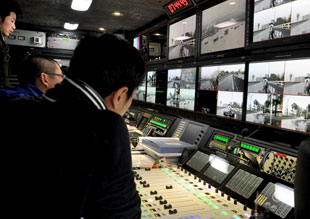 Among the projects presently underway, 'standard' Lawo systems are being installed in Hangzhou TV and Huzhou TV, while both Tianjin TV and Beijing TV are commissioning 3D OB vans. The German broadcast specialist is also reporting television installations of its sapphire consoles with Quingdao TV and the Shanghai Media Group.
With its installation completed in June 2012, the first Lawo console to be purchased by state broadcaster Beijing TV (BTV) is the 32-fader mc²66 and Nova73 system in a new 3D OB vehicle.
Having used a Lawo console as an integral part of its coverage of the Beijing Olympics, BTV has called on the the mc²66 for the 5.1 audio capability required to support 3D HD location operation. An important consideration of the console's selection was the limited space available in the 12m truck.
Following the pioneering moves made toward 3D production in China by Beijing TV, Lawo is also part of the 3D OB vehicle commissioned by Tianjin TV. Having selected a zirkon console for its first HD OBV in 2005, Tianjin TV has a second Lawo console lined up for the new truck – a 48-fader mc²56. The OBV body is presently under construction and the technical installation is due to begin in February 2013.
Another OB vehicle presently under construction will give Hangzhou TV its first mobile HD facility – with a Lawo system for its audio. Begun in September 2012 and due for completion in January 2013, this will handle its audio using a 32-fader mc²56 console.
The second of only two HD OB vehicles currently operating in China, the Shanghai Media Group's HD-4 OBV joins BTV's 3D truck in using a Lawo system for its audio. Completed in November 2012, the SMG HD-4 OBV is a very small vehicle based on a Benz Vario body, where the small footprint of a 12-fader sapphire with Visual Extension made best use of the limited available space.
This is the broadcaster's first use of a Lawo console and, using a Nova19 router with two Madi ports, it is presently the most complex Lawo sapphire configuration in China, having multiple operation pages and making use of all of the desk's multi-function keys.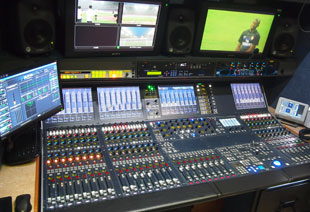 While suited to on-air radio work, Lawo's sapphire can be expanded to meet the requirements of full production applications with the addition of channel modules providing up to 60 motorised faders. The console uses a modular plug-in card system based on Lawo's Dallis I/O, which supports an integrated matrix with up to 512 inputs and outputs (non-blocking, 384 Madi + 128 Dallis I/O slots). It can also be fitted with an optional redundant power supply.
According to an SMG spokesperson, the desk is 'compact, powerful and nice looking, and the audio staff are particularly pleased with the motorised faders, page flip, DSP power and meter bridge'.
'Originally designed mainly for on-air radio applications though, sapphire turned out to be quite appealing to Chinese TV broadcasters for small and medium scale studios such as news and talk shows with its sophisticated control surface, free control knobs and convenient metering bridge', saysFrancis He, the chief representative for Lawo's Beijing Office.
Begun in June and completed in September 2012, and now carrying on-air news programming, Qingdao (Tsingtao) TV's new HD News Studio is regarded as the broadcaster's most important studio and endorses Lawo's position with China's broadcasters. With its priorities in mind, a double sapphire set-up was chosen to provide full redundancy.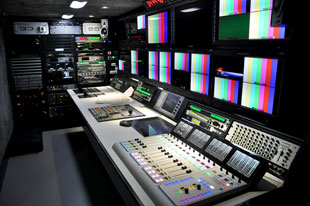 The studio is the result of an extensive renovation of both video and audio of an older facility, including the installation of a 28-fader sapphire with Rotary and Visual Extensions added to the console, and a second 16-fader sapphire provided as backup. The new set-up also features a Nova19 router equipped with two Madi ports. It is the first twin sapphire news studio in China.
As well as providing backup, the consoles have been chosen for their ease-of-use and their intuitive operation. 'For news studio, there's no dedicated audio person, but the video engineer can understand and work the console perfectly,' the broadcaster explains.
Having proved itself satisfactory, the use of twin Lawo sapphire consoles to provide main/backup operation will provide the template for further news studio developments at Qingdao TV.
Another studio renovation has seen the first mc² level Lawo console installed in Huzhou TV. Part of a 400m² studio facility completed in November 2012, a 32-fader mc²56 with a Nova73 HD core has been chosen for its cost/performance ratio, and because it offers a ready route to future upgrades. The installation offers an extremely compact setup, while remaining capable of handling large production operations.
With their eyes on both emerging and future developments, China's broadcasters have demonstrated the appeal of Lawo's technology and their confidence in the engineering behind it.
More: www.lawo.de