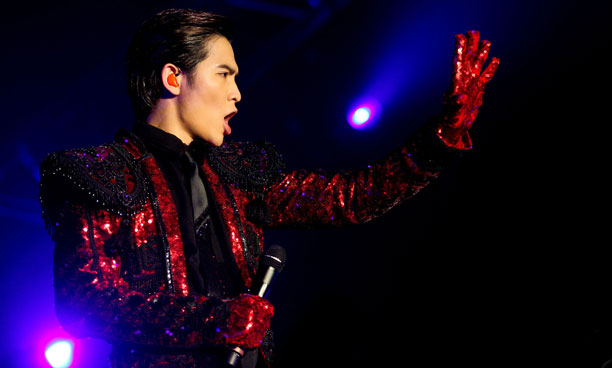 When Taiwanese Mandropop superstar Jam Hsaio put on a major concert at Wembley Arena, the lighting and audio production duties fell to UK rental company Entec Sound & Light. The show was the latest in a series of Asian artists visiting the UK and Europe that have used Entec.
The flexible and cost-effective technical package that Entec supplied provided a study on how thorough planning can enable an ambitious one-off show to be delivered – in a single day.
Crew Chief Ed Hammond led the sound department, calling on experience of producing similar shows at Wembley and the spec from Jam Hsaio's engineers, David Wang (FOH) and Alvin Kuo (monitors).
A d&b audiotechnik J-Series served as the main PA, comprising ten J8 elements and two J12 downfills per side for the main hangs, plus side hangs of six V8 and two V12 elements, the latter being at the top of the array. Eight J-Subs a side were arranged in a distributed bass array, while four Q7s and two Q10s were positioned across the front of stage for in fill.
It was the first time that Entec had used its new d&b V-Series speakers in the venue, which worked well in providing flexible and dynamic side hangs.
David Wang chose an Avid Venue D-Show as his mixingconsole, which he combined with four Teletronix LA2A outboard compressors and a selection of Waves plug-ins for the Venue system. A Yamaha PM5D was the monitor console.
Eight d&b audiotechnik M4 wedges were positioned along the front of stage for Jam Hsaio himself, and an Aviom personal monitoring system was provided for his 12-piece band. Jam also used a Sennheiser G2 in-ear system.
The sound crew of five – Kev Smith (FOH), Chris Trimby (monitors), Adam Draper (patch) and technicians Sam Maningly and Danilo Zuccaro - plus Ed Hammond got in at 7am on the day, and were ready for a 1pm rehearsal followed by the show that evening.