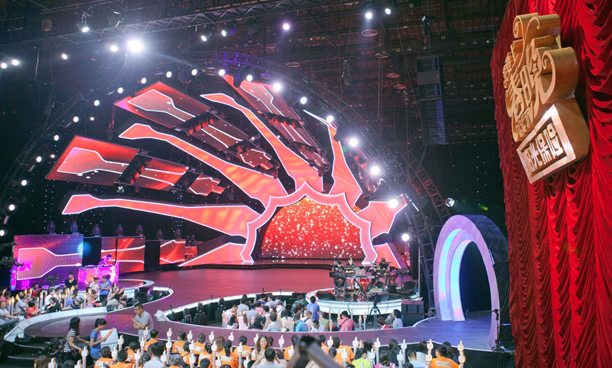 The highest rated TV show in China with 770m viewers, the Spring Festival Gala Evening marked its 30th anniversary earlier in 2012. Preparing for 2013's event, CCTV seized the opportunity to create a new reality TV show around it – I Want To Perform at The Spring Festival Gala Evening.
This involves a series of competitions that offer the public to a chance to appear alongside the stars. And it, in turn, has become one of China's most popular reality TV shows…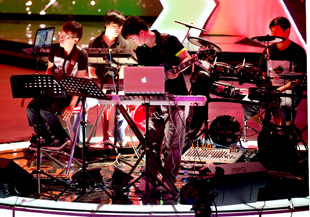 Aired on Chinese New Year's Eve, the Gala Evening broadcast features performances from China's best artists a range of genres, as well as performances by the Beijing Opera.
For this year's series of competitions which were held and filmed at the XingGuang Media Park in Beijing. Here, CCTV called on BV Cam to supply and install an APG Uniline compact modular line array system and SMX15/DX Series monitor system for the duration of the filming. Specifically, the set-up comprised left and right arrays of five UL210; three UL115B and a TB218S per side. BV Cam also provided a monitor system comprising four APG SMX15; four DX15 and four DX12 stage monitors.
'Uniline was an excellent choice for this application given the constraints of working within a TV studio,' says BV Cam's Danny Huen. 'It offers excellent horizontal and vertical directivity, which meant that we were able to adapt to the extremely wide stage design by flying the system from two fixed rigging points at the outer edge of the studio.
'A potential hazard was that the competitors' main performance area was quite close to the judges,' he continues. 'We therefore required a system capable of providing excellent sound quality for the judges, who were hearing the main system and not a personal monitor system, and yet not pick up any spurious sound from the microphones on stage. Again, the excellent directivity of Uniline meant that we had no problems on that score whatsoever. The system performed impeccably.'
In a studio setting where stage designs change frequently, CCTV requires a sound system that is flexible enough to accommodate change and still meet studio requirements. A CCTV spokesman confirmed that the broadcaster is satisfied with the system and that it 'comfortably served the various requirements of the show,'
More: www.apg.tm.fr
More: www.bvcam.com.hk