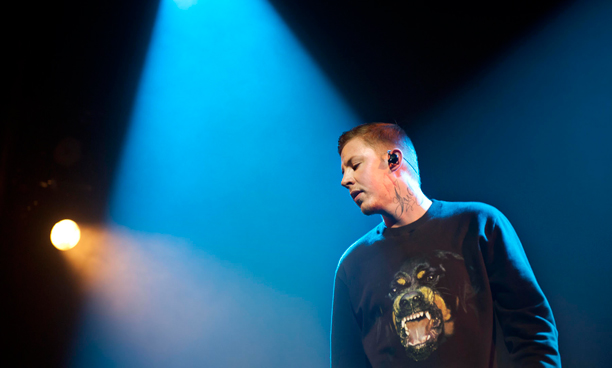 A recent Professor Green spring UK tour saw Adlib's Audio division at the centre of a dance/dubstep frenzy. The sold-out tour was the popular UK rapper's first with a full production, cementing the 'live' relationship between the artist and Adlib following 2011's At Your Inconvenience tour.
Production Manager Trigger asked Adlib onboard, with front-of-house engineer Pat Tunbridge requesting an L-Acoustics V-Dosc rig and Midas Pro6 mixing desk – following his experience of it in Australia. Monitor engineer Ben Kingman chose to mix on a Yamaha PM5D.
The tour began with rehearsals in London, then moved to Dublin and Glasgow before its finale at the Brixton Academy – with Adlib's team led by systems engineers James Neale and Michael Flaherty, looking after FOH and monitors respectively.
The FOH arrays at the largest venues comprised ten V-Dosc cabinets per side, with three dV-Dosc down for down fill, together with eight ground-stacked SB28s each side of the stage. In addition, three ARCS cabinets on each side provided front fill at Brixton with two L-Acoustics Karas were positioned along the front of stage.
All this was controlled via one of Adlib's standard Lake processing racks, populated with LM 26s and LM 44s, and using new wireless Motion Computing J3500 tablets, supplied by Rugged Mobile. These were running Adlib's bespoke Windows 7 disk image, which simplifies management of multiple computers and enables all machines to be easily upgraded to the same standard or reset to Adlib's factory settings complete with the full suite of live software. The main system was driven with L-Acoustics LA8 amplifiers.
James Neale first used a Midas Pro6 to mix monitors for an Ellie Goulding show and has been a convert since. He also visited Midas prior to the Professor Green tour going out to thoroughly familiarise himself with the console's advanced features: 'I think it's the best sounding digital board I've used to date', he states, adding that it has that 'fabulous Midas sound', together with excellent build quality and flexible, stable software.
Tunbridge used a selection of outboard as well as all the onboard effects, including a Lexicon PCM91 reverb, TC Electronic 2290 delay and Manley Vox Boxes for the vocals. Adlib supplied a Klark Teknik 9696 hard-disk recorder for the Pro6 to record the Brixton show for a webcast.
Everything onstage was kept in check by Adlib's Michael Flaherty. All the kit was spec'd by Ben Kingman, who chose a Yamaha PM5D console with the coming summer festival tour in mind – hoping to simply transfer his show file between desks around the world.
Additionally, Adlib supplied eight channels of Sennheiser G3 wireless IEMs for the band and the guest vocalists, plus three Adlib MP3 wedges, driven by Lab.gruppen PLM 10,000Qs. With the Dolby Lake processing onboard, these can be controlled using a remote tablet.
Side fill monitoring used two futher ARCS cabinets and two SB28s per side, and the drummer had a thumper seat plus a pair of hard-wired Shure P4 IEMs.
The backing vocalists used Sennheiser G3 Series radio mics (945 and 935) while Professor Green himself had a Shure UHFR mic with a Heil capsule, chosen for its tight pattern and feedback control. The DJ had a pair of Adlib MP4 subs and two MP3 wedges at his disposal, again run off PLM 10,000Q amplifiers.
'Watching Professor Green, the band and the crew develop as a live performance over the last two years has been an absolute thrill for us,' says Adlib Account Manager, Phil Kielty. 'I've seen them many times at festivals, and for Adlib to be involved on this tour was a real privilege.'
Kielty's highlights included a completely crazy Glasgow crowd chanting 'Here We Go' before Professor Green took to the stage. 'Moments like that make you realise the huge power and absolute magic of live music, even in tough economic times like these…'
More: www.adlibsolutions.co.uk
More: www.midasconsoles.com
More: http://labgruppen.com
More: www.lakeprocessing.com
More: www.l-acoustics.com